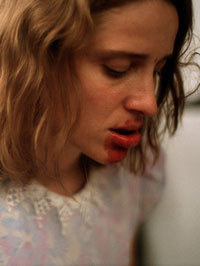 (Updated Oscar predictions here. They'll likely be tweaked once more before Tuesday.)
Following the Academy Award season is a little like watching a particularly low-rent TV soap: just as the mindlessness and predictability of the enterprise escalates to a point where quitting seems the only credible option, some or other narrative curveball will lure you back in.
So it was with me this week: after my column last week expressed a weary indifference to the race two weeks ahead of nomination day, along came the Academy to throw me a bone and re-pique my interest.
The bone was, admittedly, a small one — a wishbone, if you will — but it did the job. By shortlisting Greece's disturbing, tar-black adult fable "Dogtooth" for Best Foreign Language Film, the Academy sent out a reminder to bleary-eyed awards watchers not only that it is still capable of surprising us, but that good films can sometimes endure on their own merits — even if some of them do need an executive committee vote to help them along. (Hey, anyone else starting to think an executive committee for the Best Picture category would be a fine idea?)
"Dogtooth" likely won't be one of the five films nominated on Tuesday, and it won't have a cat-in-hell's chance of winning if it is, but no matter: by planting that seed of hope, the Academy has once more earned my attention by giving me something to invest in for the next few days. Either joy or disappointment awaits. So goes the cycle.
Why do we care about such outcomes? Whether it's "Dogtooth" or any other dark-horse film or individual in the hunt, failure to achieve Oscar recognition won't diminish your affection for your favorite contender — indeed, awards snubs only make us more fiercely protective of the movies and performances we love. (That doesn't just apply to long shots, either: I maintain that "Brokeback Mountain"'s shock Best Picture loss five years ago is the best thing that could have happened for that film's long-term reputation.)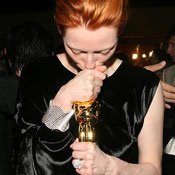 We routinely knock the aesthetic judgment of awards-giving bodies, yet get curiously thrilled on those occasions when their collective taste aligns with ours — an inversion, of sorts, of Groucho Marx's classic "I wouldn't be part of any club that would have me as a member" quip. On Sunday night, I found myself drunkenly whooping when Olivier Assayas's "Carlos" took the Golden Globe for Best TV Film or Miniseries, beating competition so far below its league as to resemble Frank Sinatra winning your average season of American Idol.
Why was I so pleased that the film had the approval of a group of voters who also liked "The Tourist?" What did the award, a puny TV honor for a professed work of cinema, even mean? None of these questions entered my head in the heat of the moment — I was too jazzed by the surreal sight of Olivier Assayas sharing the spangly stage with Miss Golden Globe 2011.
That very visibility, however, is part of the reason we care. "Carlos" will no doubt draw a few more eyeballs in the next few weeks than it would have had it lost, just as a nomination next week would send more curious movie buffs on a mission to seek out "Dogtooth." We may feel possessive of our favorite films, but not selfishly so: we want them to be seen and appreciated by others, both for the professional benefit of the artists involved, and for the chance to extend and expand our conversation about them. If awards attention aids that sharing process — and in the case of foreign films, it can even be the deciding factor in securing distribution — then we're not inclined to complain about where it comes from.
The same applies to the actors and artists that we've long treasured without any recognition from the Academy or similar: when awards voters finally catch up with us on them, we're glad not because our affection suddenly feels validated, but because the career-enhancing opportunities enabled by such a break make it that much easier to sell others on their work.
Tilda Swinton may have recently claimed that winning an Oscar three years ago made no difference to her career, but that's not strictly true: it may not have affected the choices she made, but it ensured more viewers are paying attention to her riskier ventures. Would "I Am Love" have become the Stateside arthouse hit it was if not for Swinton's Oscar-abetted morphosis from underground indie queen to ubiquitous magazine presence and movie star? We can't say for sure, but I do know some friends who could identify her only as "that creepy witch from the Narnia movie" prior to 2008.
Whenever I feel silly or shallow for getting concerned over a film's (or person's) Oscar fate, then, it's worth remembering what's in it for them beyond a fun night out and a free ballgown or two: they wouldn't be on the campaign trail themselves if one meager nomination didn't make a substantial difference to the ways and numbers in which their work (present, future and past too) might be seen.
So, as fundamentally uncool as it is to admit this — and as little as it matters in any artistic sense — I will mind if "The Illusionist" is frozen out of the Best Animated Feature race on Tuesday. I will mind if Ryan Gosling loses out to five performances less remarkable than his in the Best Actor crush, and not just out of critical principle. Rather, a snubbed contender isn't merely denied an Oscar nomination, but a chance to cultivate new audience members — a loss we annually try to counteract by clasping our awards-season orphans a little tighter to our chests.
[Photos: Kino International, Getty, The Weinstein Company]