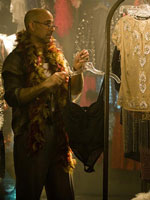 Gerard will address this category in tomorrow's Tech Support column, but I did want to say something about Best Costume Design — partly because the Guild dropped some rather interesting nominations today, and partly because it's the technical category that's still prompting the most head-scratching as I work towards my final predictions.
We all know the Academy favors lavish period productions with corsets and hoop skirts a go-go in this category, but 2010 served up remarkably few possibilities in this vein. Even "The King's Speech," the year's default well-dressed prestige title, is hardly a sartorial showcase in the vein of "Marie-Antoinette" or "The Duchess" — Jenny Beavan's crisp 1930s wardrobe is functionally stylish rather than spectacular.
As if to illustrate the lack of conventional historical options, the Costume Designers' Guild found only three films to nominate in their period category, instead of the usual five — and one of them, I'm thrilled to say, is the 1990s-set "The Fighter," whose threads I was plugging just the other day.
I'm surprised to see the Guild accurately classifying designer Mark Bridges's expert jumble of MC Hammer pants and animal-print tube tops as period garb — not least because they placed "Precious," with its late-1980s milieu, in the contemporary category last year. Consistency, thy name is not the CDG.
In the contemporary race, meanwhile, the Guild opted for a full slate of five nominees — again, reflecting an unusually strong year for latter-day costuming in Hollywood film. Any one of their picks would be a worthy, if atypical, Oscar nominee: "Black Swan" and "Burlesque" take stark and maximalist approaches, respectively, to theatrical performance garb; "Inception" and "Wall Street: Money Never Sleeps" delineate their men with sharp differences in tailoring. (This last earns curio points for Josh Brolin's burgundy Mephistopheles suit). Even "The Social Network" made subtle character points with simple college casualwear.
With the Guild evidently more excited by this year's contemporary costuming, it'll be interesting to see if one or more of these films (I'm thinking the prettier feminine threads of "Black Swan" and/or "Burlesque") could pop up in the Oscar lineup alongside obvious, more-is-more costume bait like "Alice in Wonderland."
Obviously, the Academy's costume branch has parted ways with the Guild before. But if they also prefer "The Fighter" to dressier period pieces like "Made in Dagenham," "Robin Hood" and "Secretariat," we could be looking at the most modern slate of nominees in the category's recent history. Perhaps Sandy Powell's wry dedication to contemporary costumers in last year's Oscar acceptance speech didn't fall on deaf ears after all.