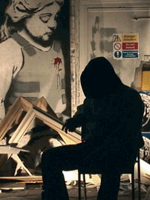 Yesterday I dug through the 15 documentary feature short-listers to offer an idea of how that race might turn out.  Over the weekend, the perceived heavy of the crowd, "Exit Through the Gift Shop" (which is the most awarded doc of the year), was taking down yet another prize at the Cinema Eye Honors.  Director Banksy was not on hand to deliver his speech, natch, but the film's producer, Jaimie D'Cruz, read it to the crowd and Matt Singer was on the ready with a recorder.  Here's the speech:
Now's not the time for long, rambling speeches. I'll leave that for the director of 'Waiting for Superman.'

I'd like to thank the Cinema Eye awards. It's great to be recognized by people who are so obsessed with the documentary genre — in other words people who are even more socially retarded than myself.

I guess some of you may be getting a bit suspicious about me. How can you know that this award is real? But I'd like to categorically assure you that this evening's awards are not being staged by actors for a parody I'm making about film awards.

I'd like to thank anyone who worked on the movie. Almost all of them did a great job. And I'd like to dedicate this award to anyone out there who's ever looked at the state of this world and thought: "I can't just stand idly by and watch this happen. I need to get it on tape." Thank you and have a good evening.
[Photo: Producers Distribution Agency]