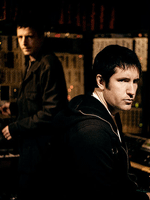 This year's Best Original Score race really has me at a loss.  I freely admit that I have no idea what will happen there.  Some days I think we'll get a small surprise like Alexandre Desplat sliding in for his best work this year in "The Ghost Writer," others I think we could just get a massive, happy surprise like Daft Punk slipping in for their brilliant work on "TRON Legacy."
Other times, I kind of just bank on it being a boring assemblage of what we've been expecting.  Probably option "C" is the wisest expectation.
One thing has begun to materialize lately for me, though.  And that is the fact that Trent Reznor and Atticus Ross, who I once upon a time thought might not even get a nomination for their wonderfully woven ambient work in "The Social Network," could be the frontrunners to win in a category that might be filled with less-singular achievements.
Of course, they have to get nominated first.  And the traditional (and insular) leanings of the music branch cannot and should not be understated.
Nevertheless, someone passed this love letter to Reznor and Ross's work from New Yorker music critic Alex Ross.  I think he really gets under the skin of what makes this score so organic to the world David Fincher and company created, and so thematically resonant, as well.  And in just a handful of words.  Here's a key graph:
No less effective are the brutal, catatonic dance tracks that play at intervals and the disconcerting electronic manipulation of Grieg's "In the Hall of the Mountain King" that accompanies the Winkelvoss twins at the Henley Rowing Regatta. I wonder if David Fincher, the director, was thinking back to the creepy whistling in Fritz Lang's M when he asked Reznor to make use of that piece. In this context, the Grieg carries a grim message: the "old way of doing things" is itself degraded, a copy of a copy, and there is no going back.
Ross also praises Hans Zimmer's work on "Inception," which is likely Reznor and Ross's competition, in the piece.  Meanwhile, I'll be holding out hope that Daft Punk will get to walk the red carpet.  Or Sylvain Chomet.  (As if.)
(In case you missed it, here is my interview with Reznor and Ross from earlier this month.)
[Photo: Blogomatic 3000]