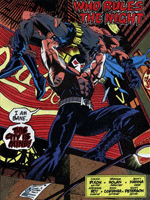 I feel compelled to pass this along in the midst of the usual Oscar talk because, well, you know me.
I looks like Anne Hathaway has been confirmed for the role of Selina Kyle (aka Catwoman) in Christopher Nolan's final Batman chapter, "The Dark Knight Rises." Tom Hardy, meanwhile, who was cast in an unnamed role a few months back, has been confirmed for the role of Bane.
Yep, "Batman Returns" and "Batman & Robin" in one movie, despite a bevy of villains that could have been much more intriguing in this new direction the character has taken.  On top of which, as much as I love Hathaway, I don't like her for Kyle.  At all.  But you know what they say about opinions…
Anyway, on Hardy (who was speculated for the role of Dr. Hugo Strange in a take on the "Prey" storyline), I'm equal parts intrigued and disappointed by the character choice.  Bane was infamously misused in Joel Schumacher's 1997 craptastic vision, but if you're looking to close out your trilogy (and three is as far as Nolan ever planned to take it), Bane is a nice character to use — if you're faithful.
Bane, of course, first appeared in the lead-up to the major "Knightfall" storyline of 1993.  The character was an orphan born and raised in a Central America prison who underwent an operation to transform him into a supersoldier.  He therefore juices on a substance called "venom," which turns him into a hulking Blanka-like beast.  Enough 90s references for you?
Anyway, Bane frees all of the Arkham Asylum inmates, which Batman naturally tracks down one by one, exhausting him over a six-month period.  Just when our hero is at his weakest, Bane strikes and, in a moment that made the DC sky seem like it was falling just half a year after Superman had "died" at the hands of Doomsday, he breaks the Dark Knight's back right over his knee.
Yeah, we got none of that in Schumacher's take.  Just some comic relief.  So let's hope we get more, and some psychological torment to boot, from Nolan this time around.  And there's much more to that story, too, so who knows what other aspects may be utilized, or how Catwoman will be brought into that folkd?  Meanwhile, one unique and interesting characterization of Bane as of late was in the video game "Batman: Arkham Asylum."  I'd love to see that play out in a film.
Anyway, grist for the mill.  Back to our regularly scheduled Oscar programming.
[Photo: DC Comics]