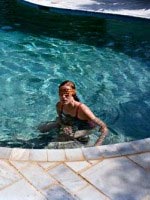 "Dogtooth." That's the title an every Oscar pundit's lips right now, as Greece's critically beloved but super-outré submission — which includes inter-sibling sex and feline homicide in its curious bag of tricks — stunned pretty much everyone by showing up on the nine-title shortlist for the Best Foreign Language Film Oscar. I can hardly believe I'm typing this myself.
There can be no doubt whatsoever that this is the work of the Academy's executive committee, which was set up two years ago to give more challenging fare a leg up in the Oscar race by hand-picking an extra three titles to go on the shortlist compiled by general voters in the category. They've certainly done their job on this occasion — bravo, guys. (Japan's reportedly edgy "Confessions" appears to be the second film they saved; the third is open to question.)
As it turned out, I predicted only four of the nine — not hard in the case of Denmark's Golden Globe winner "In a Better World," Canada's "Incendies" and Mexico's "Biutiful," which have been installed as favorites for weeks now.
The film I've been betting on for the win since May, South Africa's "Life, Above All," also made the cut. Foolishly, I panicked and dropped Algeria's "Outside the Law" at the last minute despite it currently featuring in my nomination predictions — I should have trusted my first instinct.
Still, I'll give myself some bonus points for correctly calling the morning's "surprise" snub: despite the film's critical kudos and Cannes pedigree, I figured France's "Of Gods and Men" would prove too staid and remote for the general voters, and not adventurous enough for the executive committee. Looks like I was right. Anyway, with three potential winners still in the race, Sony Pictures Classics can't shed too many tears over this.
If any inclusion here surprises me, it's Sweden's "Simple Simon," a perilously slight and artistically negligible comedy about Asperger's syndrome that I described in my review last week as "gratingly whimsical… tonally wearying and scored like a Tampax commercial." But I hear general committee members responded well to it cheeriness — it certainly sticks out like a sore thumb on an otherwise very sombre shortlist.
What are our five nominees, then? Canada and Denmark appear to be close to locked as it's possibly to be in this ever-tricky race, and while I've held out on predicting "Biutiful" due to its divisive nature, there appears to be a surge of goodwill for it in the industry. (Don't assume, however, that Javier Bardem's Best Actor buzz is a decisive factor here: four years ago, the shortlisted "Volver" couldn't crack the final five despite scoring a Best Actress nom for Penelope Cruz.)
Meanwhile, I remain confident that "Life, Above All" is on track to become the category's third South African nominee in seven years, but that fifth spot is puzzling me. "Outside the Law," with its polished production values and solid, old-fashioned storytelling, seems a likely choice — director Rachid Bouchareb previously scored here in 1995 and 2006, after all. And the Spanish entry could coast in on the star power of Gael Garcia Bernal.
But this category is always ripe for shockers. Last year, nobody expected "The Milk of Sorrow" to show up in the final five, given that it was so obviously one of the executive committee's orphans — and yet there it was on nomination morning. This time next week, could we be talking about "Academy Award nominee 'Dogtooth?'" Fingers crossed.
Here's the shortlist:
Algeria ("Outside the Law")
Canada ("Incendies")
Denmark ("In a Better World")
Greece ("Dogtooth")
Japan ("Confessions")
Mexico ("Biutiful")
South Africa ("Life Above All")
Spain ("Even the Rain")
Sweden ("Simple Simon")