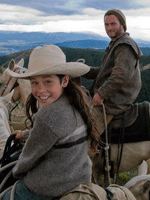 While Guy has been surveying the foreign field, I've been diving in elsewhere.
It has been considered a banner year for documentary filmmaking. So naturally, the Best Documentary Feature race has been an interesting one to watch since the season's early days.  Two months ago the Academy announced 15 finalists (whittling it down from 101 eligible titles) still alive in the race for this year's doc Oscar. Branch members will now select five nominees from the remaining hopefuls, which will be announced as part of the Academy's big reveal Tuesday.
Even if there are a number of examples that didn't make the list but probably should have, those 15 films largely make for a sound representation of a great year for the form. I spent the last couple of weeks revisiting some and saddling up to others for the first time, so it seemed worth it to offer up my thoughts on each and my perspective on the race.
Visibility can be a good thing when it comes to this category, but it's not necessarily a golden ticket. Still, with $6.4 million in the box office and a well-established place at the table already, it's fair to say Davis Guggenheim's education crisis effort, "Waiting for Superman," is one of a few films leading the charge this year. Add in the film's message components and a major studio push and you're looking at a sure-fire nominee — and a potential winner.
But there are other films that made some headway with audiences this year. Charles Ferguson's stock market crash treatise, "Inside Job," and Banksy's depiction of art's commercial perversions, "Exit Through the Gift Shop," pulled in $3.5 million and $3.2 million respectively. The former, filled with zeitgeisty subject matter and a galvanizing impact, could ultimately take the prize this year. The latter, however, despite being the most awarded documentary of the year, could easily run into trouble with hoax accusations, not to mention the fact that the documentary committee is hardly the hippest bunch.
In the political spectrum there are two drastically different approaches to be recognized in Amir Bar-Lev's "The Tillman Story" (telling the tale of football star-turned soldier Pat Tillman's politicized friendly-fire death) and Tim Hetherington and Sebastian Junger's "Restrepo" (opting for an on-the-ground, with-the-grunts neutral position that nevertheless makes a statement about pointless military conflict). Bar-Lev's film is a talking head doc, much like Ferguson's film.  Those tend to see a more difficult time than pieces like Hetherington and Junger's, which document circumstances as they happen. Nevertheless, both are attractive choices for the committee.
Speaking of talking heads, Oscar winner Alex Gibney's "Client 9: The Rise and Fall of Eliot Spitzer" has received a lot of attention this year. But I have to confess a general boredom with its presentation. It does, however, depict an intriguing persona (who actually feels better utilized in Ferguson's film). It's in the hunt but I wonder if it will ultimately have the juice to get there.
Those are the most covered entries, but what about the other nine short-listers? This won't be a category filled only with the familiar titles, after all.
Madeleine Sackler's "The Lottery" focuses on an aspect of public education that Guggenheim merely touches on in his film, namely a New York lottery held for the purposes of selecting children for one of the city's best schools. But despite digging in and finding real personal and emotional rhythms, it might be a bit overshadowed by its similar, more publicized competition.
Middle East concerns are front and center in two contenders, journalist Shlomi Eldar's "Precious Life" (depicting the story of a Palestinian mother seeking medical treatment for her baby from an Israeli pediatrician) and Mary Ann Smothers Bruni's "Quest for Honor" (which dives into the hot button issue of honor killings). The former offers a uniquely delivered message (that could resonate with voters) while the latter feels perhaps more immediate (if "Dateline"-ish), but neither particularly stands out from the fray of similarly themed entries in recent years.
Sticking with foreign politics, two years after "The Conscience of Nhem En" was chalked up in the doc short field, the branch is still intrigued by rare cinematic studies of the Khmer Rouge regime's Cambodian genocide. "Enemies of the People," from filmmaker Rob Lemkin and journalist Thet Sambath, is a unique portrait of reconciliation that, if not as sexy as some of the competition, is no doubt penetrating with its first-hand accounts from survivors and perpetrators alike. It also rings a certain shared thematic in this year's field of contenders: personal journey.
There are two environmental awareness docs on the list that pack a substantial punch. First up, Josh Fox's "Gasland" is a uniquely assembled indictment of hydraulic fracturing, a controversial process of drilling for natural gas that pollutes the water supply. Mark Ruffalo has been a highly publicized proponent of the film and Fox's personal approach turns him into an unknowing Brockovichian crusader. It might be the field's most important entry.
The similarly titled "Waste Land," from director Lucy Walker, could rightly be considered the crowd-pleaser of the lot. Its depiction of contemporary artist Vik Muniz's collaboration with "catadores" (pickers of recyclable materials at the world's largest landfill outside of Rio de Janeiro) to create amazing large-scale works of art carries real emotional weight and drives home a message with endearing characters that might be too difficult to pass up.
One sleeper to watch for is Thomas Burstyn's "This Way of Life," a thoughtful depiction of a lionhearted New Zealand father and his off-the-grid family. Filmed over the course of four years and defined by its juxtaposition of familial serenity and discord, it is perhaps the most beautiful, cinematic accomplishment of the field. And it packs an emotional punch, too.
Finally, there are the profile pieces. In Michèle Hozer and Peter Raymont's "Genius Within: The Inner Life of Glenn Gould," the famed pianist is celebrated (though not all that interestingly) a quarter century after his death. More significant is Emily and Sarah Kunstler's portrait of their liberal lawyer hero father — "William Kunstler: Disturbing the Universe" — which really stands out for its personal notes and unflinching honesty. Plus, the film has heavy hitter Michael Moore promoting it behind the scenes.
It's a tough field to choose from, to say the least. I don't envy the branch its task, but we'll see which way they leaned next week.  If you were to ask me my opinion, I'd personally rank them as follows:
1. "Exit Through the Gift Shop"
2. "Restrepo"
3. "This Way of Life"
4. "Gasland"
5. "Inside Job"
6. "Waste Land"
7. "William Kunstler: Disturbing the Universe"
8. "Enemies of the People"
9. "The Tillman Story"
10. "Waiting for Superman"
11. "Precious Life"
12. "Client 9: The Rise and Fall of Eliot Spitzer"
13. "The Lottery"
14. "Genius Within: The Inner Life of Glenn Gould"
15. "Quest for Honor"
If you were to ask me — today — which five I'd predict for nominations, I'd guess:
"Gasland"
"Inside Job"
"Waiting for Superman"
"Waste Land"
"William Kunstler: Disturbing the Universe"
But that will most likely change before I make my final commitments Monday.  My ranked thoughts on the films' Oscar potential can be found, as always, at the category's dedicated Contenders page here.  And I'm sure we'll dig in more on the race when this year's Oscar Guide makes its way to the docs in the coming weeks.
[Photo: Cloud South Films]