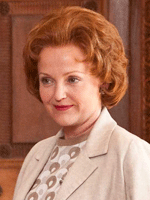 One of the interesting things about this morning's BAFTA announcement is that it scattered the already fluid Best Supporting Actress category to the winds.  Nominations for Barbara Hershey, Miranda Richardson and Lesley Manville put them in the hunt with contenders like Mila Kunis and Jacki Weaver for what appears to be an up-for-grabs fifth slot.
Anne and I will probably address this at length in Friday's final pre-nods Oscar Talk, but it seemed a good bet for a poll update as well.  Surprises happen.  And you risk being crazy to think outside-the-box (as in, last year, when everyone thought I was out to lunch for thinking Maggie Gyllenhaal had a chance).
In the left sidebar, I've listed the five competitors that seem most likely to battle it out for a chance to join Melissa Leo, Amy Adams, Helena Bonham Carter and Hailee Steinfeld (who herself could suddenly fall lead) in the Best Supporting Actress category this year, as well as the NSFC-winning Olivia Williams and an obligatory "other" option thrown in.  Chalk up your vote there and head on back here for your reasoning and hopefully we'll get some good discussion out of all of this.
[Photo: Sony Pictures Classics]