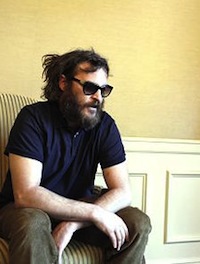 When it came time to choose a snappy title for my year-end retrospective, the one that seemed to fit best is the one given to all my columns at In Contention this year. Oscar and I have shared a mutual disinterest in what the other feels to be award-worthy for a few years now and it doesn't look like the trend is going to change much in 2011. For those interested, my top 20 last year garnered a whopping three nominations between them (two coming in the Best Animated Feature category).
If there was any kind of trend or narrative to my taste this year, I guess it would be the rise of documentaries. Nearly 50% of my top 20 is comprised of the medium (including a few hybrids that blur the line), compared to a single entry last year. My guess it has more to do with a growing disenchantment towards lazy screenwriting than a noticeable uptick in quality non-fiction film. Regardless, truth was truly more interesting than fiction for me in 2010.
Elsewhere, a number of high ranking films have to do with relationships and their struggles, possibly connected to the fact that breaking up with my girlfriend of four years was probably the defining event of my year, personally. Sometimes a movie hits you when and where you need to be hit.
For those who think I'm a snob, the list probably won't disappoint. If you haven't come across some of the titles before, hopefully you'll look into giving them a chance. They may not move you the way they moved me, but that's the real joy of moving outside of the Hollywood system. Once films are not being made to please as many people as possible, they stand a much better chance of pleasing YOU in a transcendent way that only movies can.
In the end, I didn't see everything I wanted to. "Dogtooth," "Guy and Madeline on a Park Bench," "The Fighter," "True Grit," "Somewhere" and "Another Year" will have to wait and could easily have made this list if they all weren't released at the same time when I'm too busy and poor to go to the movies every day.
I know Guy and Kris went with honorable mentions and a top 10, but I'm pushing forward with a straight top 20.
#20

"YOUTH IN REVOLT"
Directed by Miguel Arteta
Teen comedies are rarely done well and this is by no means a perfect film, sometimes Arteta lets the supporting cast reach a little too far for the laughs, but the main storyline is surprisingly poignant and realistic. Michael Cera pulls off a strong double performance, simultaneously acknowledging and shaking off the criticism that he has only one schtick, while Portia Doubleday makes a case for genuine stardom as the object of his affection. The mushrooms sequence alone is worth the price of admission.
#19

"MARWENCOL"
Directed by Jeff Malmberg
Recently crowned Independent Spirit Award winner for the Stranger Than Fiction award, Malmberg's documentary certainly fits the bill. Mark Hogancamp was brutally beaten outside of a bar and suffered enough brain damage to set him back to square one in terms of learning to walk, talk, read and write. Oh yeah, he's also constructed a second life for himself in his backyard, where he lives vicariously through World War II dolls. Incredibly interesting look at both a wounded soul and a reluctant artist finding his voice.
#18

"OCTOBER COUNTRY"
Directed by Michael Palmieri & Donal Mosher
Palmieri turns the camera on his own family and paints a bleak portrait of the cyclical, debilitating effects of poverty. It all loses a bit of power when you stop and think that the director got out and made something of himself, but what's left behind is still a moving portrait of an all-too common American existence. Palmieri's ability to really peel away the layers make it impossible to simply brand these characters "white trash," and hint at a strong intelligence buried beneath a shockingly defeatist attitude.
#17

"CYRUS"
Directed by Jay Duplass & Mark Duplass
There's a lot to like here. First of all, the Duplass brothers were able to cash studio money, team up with Ridley and Tony Scott, cast movie stars and still end up with a film that bears their signature on every frame. I'm still not crazy about their shooting style and ultimately the concept of a man squaring off with his potential son-in-law is not exactly original material. But what the film does absolutely right, and what sets it apart from typical Hollywood, is that it focuses on and makes you care about the actual relationship at stake, thanks in no small part to career best work from Marisa Tomei.
#16

"THE SOCIAL NETWORK"
Directed by David Fincher
Aaron Sorkin's overwritten and oversimplified screenplay is the weak link in a film that frustrates and excites me in equal measure. The still above is a perfect example. When a roommate asks for an html code, who grabs a white sharpie and writes it on the window? Nobody. That's who. That the shot appears in a bravura sequence of directing, editing and scoring makes it slightly more forgivable, but I just wish Fincher didn't feel the need to embellish like that. At worst, the film plays like an episode of "Boston Legal," at best it harkens back to "All the President's Men." Either way it's leagues better than "The Curious Case of Benjamin Button" and as respectable a Best Picture choice as I'm likely to get.
#15

"COLD WEATHER"
Directed by Aaron Katz
Katz's most personal film is also his most exciting. Gently mixing familial relationship drama with Sherlock Holmes-inspired mystery is a tall order for any filmmaker, but "Cold Weather" succeeds fantastically at both. A sudden left turn in genre and tone can be an annoying manipulation, but because the characters are set up so well here it simply feels like a continuation of their story, albeit one you would never have seen coming. For the budget it was made on, it has no right to boast cinematography so refined and Keegan DeWitt's score is the best you'll hear in any film this year.
#14

"LAST TRAIN HOME"
Directed by Lixin Fan
I wonder if there were any reviews of this film that didn't include the joke, "And you thought your commute was bad?" Fan's documentary follows one family over several years as the parents work all year in a clothing factory, sending money home to their children being raised on a farm by their grandmother. They get to go home once a year, on Chinese New Year, and the only snag is that 200 million people are also leaving the city at the exact same time. If the logistics weren't fascinating enough, the family dynamic slowly unfolds in heartbreaking ways, suggesting that all the parents work may be for naught.
#13

"VACATION!"
Directed by Zach Clark
The official synopsis reads, "An existential beach party movie about life, death, sex, drugs and other shit that totally fucks you up." Can't accuse Clark of false advertising as he channels the spirit of Annette Funicello through John Waters to the feet-tapping rhythm of new wave pop. It's alive in ways few films are and provides four young actresses with four great roles, Lydia Hyslop proving a mesmerizing standout.
#12

"NÉNETTE"
Directed by Nicolas Philibert
Nénette is a 40 year old orangutan, living in a Parisian zoo. This 69 minute documentary features nothing but shots of her hanging out, swinging, eating and sleeping. The only audio is captured conversations of the men, women and children who stop to gape at her during the day. It's sometimes philosophical, sometimes funny, mostly irrelevant. This concept either excites you or sounds like watching paint dry. In truth, you get the gist after five minutes, but the real joy of experimental cinema is getting the gist, sticking with it and seeing what else comes out of the experience.
#11

"THE OATH"
Directed by Laura Poitras
Between this and "My Country My Country," Laura Poitras is effortlessly making the most thought-provoking documentaries about the current situation in the Middle East. Initially setting out to make a film about a prisoner from Guantanamo Bay being released, she instead stumbled upon former Osama Bin Laden bodyguard and current taxi driver, Abu Jandal. An explosive screen presence, Jandal shifts the focus to himself and his views on anything and everything. As a character, he's wildly contradictory and transforms from villain to tragic hero from scene to scene in a story that never quite goes where you expect.
#10
"THE FREEBIE"
Directed by Katie Aselton
A stagnant couple agree to one night of no questions asked freedom in an effort to save their relationship. If that sounds high concept and absurd, it is, but Aselton and Shepard somehow find a way to sell it with their fantastic performances. Of course, the agreement turns out to be a terrible idea and Aselton pulls no punches with her exploration of jealousy, fidelity and honesty. This one hit me in the gut at the exact right time.
#9

"EVERYONE ELSE"
Directed by Maren Ade
Maren Ade's delicate look at the vacation of a couple who may or may not be terrible for each other would serve as a nice double feature with my number five film below. Restrained and filled with as much subtextual silence as sun-drenched skin, few films captured the essence of their locations as well. The two performances from Birgit Minichmayr and Lars Eidinger are perfectly natural and heartbreaking. One of a few films on the list you'd be advised to steer clear of on a first date.
#8

"VIDEOCRACY"
Directed by Erik Gandini
Gandini's look at the culture of politics and media in Silvio Berlusconi's Italy is both the most fascinating and most WTF-inducing documentary of the year. If you ever wondered what it might be like if Rupert Murdoch became President of the United States and reality shows somehow got even more uncouth, then look no further. Gandini really only scratches the surface, but his camera captures the culture from three very different angles and each one is more grotesquely engaging than the last.
#7

"GREENBERG"
Directed by Noah Baumbach
I had all but written off Ben Stiller before he won me back in "Greenberg." Given a character of wonderful idiosyncrasies by Noah Baumbach, and an unusual foil in Greta Gerwig, he completely inhabits Roger Greenberg. It's an unlikeable performance, but an infinitely watchable one. Baumbach perfectly captures the culture shock between New York and Los Angeles, thanks in part to Harris Savides' cinematography, which recalled the work of László Kovács on "Shampoo." And then there's the star-making performance from Gerwig, Hollywood's unlikeliest and most talented new star.
#6

"CATFISH"
Directed by Henry Joost & Ariel Schulman
Nev Schulman's slow discovery of the truth surrounding his penpal may have led some viewers down a path of skepticism, but it led me on the most unforgettable and tense journey of the year in film. That it turns into one of the most unusual and poignant portraits of a lonely soul is but one twist of many in the second half and it would be a shame to give them all away. Just see it.
#5

"BLUE VALENTINE"
Directed by Derek Cianfrance
This film lives or dies by the two lead performances and they are both diamonds. Cianfrance doesn't necessarily have anything new to say about relationships, but he says what he does with conviction, taste and piercing honesty. It's easy to jump cut between happy and sad times to elicit the effect of a disintegrating relationship, but Cianfrance fills the scenes with so much intricate detail that alludes to the entire scope of the couple's time together that it transcends the structural gimmick.
#4

"I'M STILL HERE"
Directed by Casey Affleck
I saw this before it was officially announced as a pre-conceived concept and can't honestly say how I'd feel about the film if that wasn't the case. As it was, I felt like I was watching something truly special. Real or not, Joaquin Phoenix clearly has a very tangible contempt for celebrity culture and the distorted dialogue that takes place between that world and ours. Phoenix begins the film with a rant about his childhood, wondering if he really was angry and withdrawn or if people simply started saying he was and he become so in response. That idea permeates through every step of the film. Was Phoenix really an asshole or did we just decide he was and no matter what he did, it would fit that perception? Lots of interesting ideas and drop dead funny to boot.
#3

"DADDY LONGLEGS"
Directed by Ben Safdie & Joshua Safdie
The Safdie brothers mined their own childhood experiences for this disconcerting tale of a father incapable of properly caring for his two children. Ronald Bronstein is perfect as the father, doing his best with the little time he has with his kids, and gets away with borderline despicable things because of the humanity he brings to the character. The kids are more loud, blurry distractions than characters, which is a nice change from most films. It's not about the kids anyway. Just like their previous film, "The Pleasure of Being Robbed," the Safdies employ a sense of whimsy to the super gritty 16mm shooting that harkens back to a bygone New York era, making their output feel timeless.
#2

"ALAMAR"
Directed by Pedro González-Rubio
Another documentary-narrative hybrid, González-Rubio follows a young boy who is spending a few days with his father on a remote fishing village off the coast of Mexico. The boy lives with his mother in Italy and couldn't have two more differing cultures as his heritage. The father knows he has only these few days to imprint himself on his son and they spend the time fishing, playing, cooking, eating and befriending a small bird. The action unfolds in quiet, poetic beauty and by the end of the film, the boy and the audience are hesitant to leave such a tranquil paradise. It's a gorgeous little film that will make you want to call your Dad and say hey.
#1

"A PROPHET"
Directed by Jacques Audiard
I'm a year behind Kris and Guy, but "A Prophet" is the real deal. Epic filmmaking with a far-reaching scope that is nevertheless intimately grounded by a phenomenal lead performance. Audiard borrows from classic gangster films, French New Wave, Greek tragedy and everything in between to tell his story of one man's rise to power through the prison system. Bold, brash, disturbing and yet somehow triumphant. Any film that can execute a "ghost" character that guides the protagonist and not have it be all sorts of awful is a crowning achievement.
Blam! As I mentioned before, this column serves as both the wrap-up for my Life Without Oscar series (which I hope you enjoyed) and also my swansong on the site in general. Thanks again to Kris and Guy for letting me share space with them and I look forward to meeting Guy when my new film premieres at Cannes in 2012.
Feel free to chime in with thoughts and comments below.