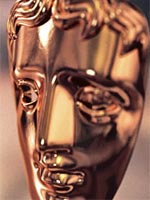 If you've been with us for a couple of years, you'll know that the BAFTA nominations infuriate me on an annual basis. However, my therapist recently advised me that I need to heal my relationship with BAFTA through forgiveness, so I'll lead with few the things that pleased me about this morning's announcement.
For one thing, though the longlists already tipped us off to most of the "surprises" here, I'm happy to see Julianne Moore finally nominated alongside her "The Kids Are All Right" co-star Annette Bening in a serious Best Actress race. Pete Postlethwaite's posthumous nomination for "The Town" (his first from BAFTA, unbelievably, and the only one for Ben Affleck's film) is shamelessly rooted in sentiment, but happily, it happens to come for a striking mini-performance anyway.
While it was inevitable that Brit hit "The King's Speech" would lead the field, it's nice to "Black Swan" close behind with 12 nods, including mentions for its contemporary production and costume design.
I'm glad BAFTA voters have partially forgiven Mike Leigh: with only two nominations, neither of them for his screenplay, "Another Year" got less than its due, but it's an improvement on his 2008 donut for "Happy-Go-Lucky." And while the unpreviewed Best British Film category could be more adventurous ("Neds," people? "Monsters?"), voters at least put a stop to "Kick-Ass"'s grim run through the British awards circuit.
Okay, I'm done being nice. Despite odd commendable details, this remains a list riddled with lame-brained decisions, many of which show up crippling flaws in BAFTA's voting system. Theirs is the reverse of the AMPAS drill: while the winners in each category are determined by the applicable voting branch (or "chapter," in BAFTAspeak), the entire BAFTA membership votes on the nominees across the board. And the cluelessness of some voters about crafts unrelated to theirs is all too evident in some cases.
How else to explain "TRON Legacy" (one of the VFX chapter's top five choices, as marked on the longlists) missing out for Best Visual Effects, while "Toy Story 3" slides in? Or "Winter's Bone" (again, a chapter pick) losing out to "The Girl With the Dragon Tattoo" in Best Adapted Screenplay? (Debra Granik's film, by the way, gets zero respect from BAFTA, with Jennifer Lawrence cockblocked — again — by the Lisbeth Salander phenomenon.) How is this a preferable way to run things?
Over in Best Score, we know that the music branch would have nominated Trent Reznor and Atticus Ross, but their work evidently went over the heads of the non-pros, who replaced it with "127 Hours." "The Social Network," by the way, didn't have the best of mornings: with only six bids, it's the least-nominated of BAFTA's five Best Film contenders, further suggesting that we're likely in for a night of patriotic "King's Speech" petting. (Side note: the nomination leader, or co-leader, hasn't lost the top prize at the BAFTAs since 2003.)
Of course, some of the most vexing decisions here were also made by the voting chapters. I continue to be mystified by "Despicable Me"'s showing in the race thus far, as it once more elbowed British production "The Illusionist" out of the animated race — in a banner year for the medium, could this trifle really be our third Oscar nominee?
I suspect many eyebrows will be raised by the Best Supporting Actress category, where, as foretold by the longlists, Barbara Hershey beat her younger, buzzier "Black Swan" co-star Mila Kunis to a nomination, despite the latter's more impressive showing on the American awards trail. This is Hershey's first major nod of the season — could BAFTA be previewing an Oscar surprise here, as they did with Alan Alda in 2004? I'm starting to wonder.
That's not the only talking point in that race, as Golden Globe champ and de facto Oscar frontrunner Melissa Leo was frozen out, while her co-star Amy Adams made the cut. This isn't the first time Adams has elbowed aside a more-hyped senior co-star at the BAFTAs — two years ago, Viola Davis was similarly snubbed for "Doubt." When in doubt, British voters pick the name they know best. Or, to stick to my Twitter line: "If you're an older actress and you want a BAFTA, do not co-star with Amy Adams. SHE WILL DEVOUR YOUR DREAMS."
With Hailee Steinfeld rightly promoted to Best Actress (where she finds herself nominated in place of chapter choices Michelle Williams and Carey Mulligan), the Best Supporting Actress race is, again, the least predictable one here.
Anyway, enough from me. The BAFTAs will take place on Sunday 13 February. I plan to be in Berlin then — and frankly, the less I have to think about them, the better. Full list of nominations at The Circuit.