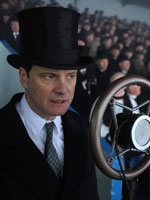 It may have lost six of its seven bids at last night's Golden Globe Awards, but there was consolatory news for "The King's Speech" in the box office receipts — on both sides of the Atlantic. Nabbing the #4 spot Stateside after upping its screen count was a handy achievement, but it's in its home country that the film has attained jaw-dropping phenomenon status.
Not only did the royal biopic hold onto the top spot at the UK box office, comfortably elbowing superhero flick (and US #1) "The Green Hornet" into the runner-up spot, but it actually exceeded its opening-weekend gross, taking £4.72 million compared to "just" £3.52 million a week ago. (Figures filched from the trusty Charles Gant's Twitter feed.)
Tom Hooper's film is currently sitting on a total haul of £10.72 million (roughly $16.69 million, if you like your maths in American English). For the sake of comparison, that's more in a fortnight than "The Social Network" took in its entire UK theatrical run. Crazy.
That kind of growth is a rare enough occurrence when dealing with the usual sort of box office fodder — but for a high-end, older-skewing prestige drama, it's nothing short of astounding. The adult audience is rarely given much commercial consideration by the money men, but these figures prove that they will show up in force when served something with broad appeal in the cold, dark days of January — while this week's increased gross suggests they're telling their friends to see it too.
Put in Sally Field terms, people like "The King's Speech." They really like it. And it's this word-of-mouth potential that nags to me, despite practical evidence to the contrary, that it shouldn't be counted out of the Oscar race just yet. The BAFTA, of course, could hardly be more in the bag at this point.
[Photo: The Weinstein Company]