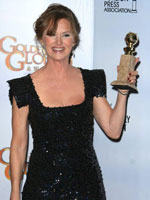 Appropriately enough for the occasion, I watched last night's Golden Globe awards in a celebratory alcoholic fog (the night having coincided with a friend's birthday) so thick it took most of today to sleep it off — hence the apologetically late posting.
My memory of the evening's finer details is therefore about as clear as, say, Ricky Gervais's, though I do recall cheering so manically for "Carlos"'s win in the TV Miniseries category (even if the film is, by its director's own admission, a work of cinema) that I inadvertently tossed red wine in my hair. That, and so many green dresses on screen that I briefly wondered if the collected stylists of Hollywood had been roped into a particularly gratuitous product placement scheme for the weekend's box office champ.
The awards themselves, meanwhile, were both well-judged and helpful, tying (or at least tidying) up a few loose ends remaining on the circuit — and even allowing me some minor bragging rights for calling the widely unfancied Paul Giamatti. (For an hour, at least, until my inevitably doomed prediction of a Best Picture upset missed outright — awards season giveth, and it taketh away.)
These, however, are the chief takeaways from the night as the dust (and my head) clears.
The Oscar goes to… "The Social Network"
If "The King's Speech" was going to emerge as a formidable Best Picture foil to David Fincher's juggernaut, last night would have been the time for it to step forward and announce as much — particularly given the HFPA's European leanings. Instead, it stood meekly by with a lone win for Colin Firth while "The Social Network" racked up four wins (in the same quartet of categories that season sweeper "Slumdog Millionaire" took two years ago, if you want to get mystic about it), which suggests to me this may be no contest.
The Globes aren't afraid to go their own way when they feel like it — they resisted overwhelming precursor momentum for "No Country for Old Men" and "The Hurt Locker," after all — so the fact that even they fell in line behind the Facebook film is telling.
Best Supporting Actress at last has a certifiable frontrunner
While the other three performance races crystallized some time ago, Best Supporting Actress played coy for as long it could, with different contenders edging back and forth in the momentum stakes and no inarguable One To Beat emerging. That situation shifted slightly this weekend: while the category remains a contest (Hailee Steinfeld's absence from the Globe nominees renders the result ambiguous for Oscar punters), Melissa Leo's one-two punch at the Critics' Choice and Globe ceremonies has nonetheless given her a sizeable lead.
That the usually starry-eyed HFPA voters could agree on a character actress they didn't even nominate two years ago for "Frozen River" suggests a meme may have taken hold — and it was smart of Leo to include a polite but pointed rallying cry for older actresses in her acceptance speech. (Particularly since Annette Bening's forgettable appearance last night won't have done much to derail the Portman Express over in lead.)
The HFPA doesn't think comedy is a joke… entirely
Globe voters have been weirdly bipolar of late when it comes to their much-maligned Comedy/Musical categories. Only two years ago, they earned themselves a measure of indie cred by handing awards to "Vicky Cristina Barcelona," "In Bruges" and "Happy-Go-Lucky"… only to throw it away the next year with less well-received wins for bubblegum blockbusters "The Hangover" and "Sherlock Holmes."
They further vexed critics last month by dishing out multiple nominations to the likes of "The Tourist" and "Alice in Wonderland," but last night's results suggest they're apologetically trying to court them once more. The two wins for acclaimed Sundance dramedy "The Kids Are All Right" were easy calls, but Paul Giamatti's well-received Best Actor win was less widely expected — and if "Barney's Version" doesn't exactly qualify as a critics' movie, it's certainly no populist pick. What mood the currently contrite voters will be in next year, however, is anyone's guess.
Never underestimate Sony Classics for Best Foreign Language Film
As I wrote in my predictions yesterday, I've been sensing a surge of enthusiasm for Susanne Bier's "In a Better World" in the past few weeks — had I actually seen the film, I might have been a bit braver and gone with the prediction. What's becoming increasingly clear, however, is that you bet against Sony Pictures Classics in this category at your own risk.
The arthouse distributor shepherded three of last year's five Oscar nominees, including the eventual "surprise" winner, and looks to be an equally dominant presence this year, with "Of Gods and Men," "Incendies" and "Life, Above All" all tipped to appear on next week's Academy shortlist alongside the Bier film. Last night's semi-upset win, over two higher-profile auteur works led by major international stars, makes me wonder if we could see the first Globe-Oscar match-up in this category since "The Sea Inside" six years ago.
Ricky Gervais should host, like, everything
Sure, he ain't as pretty as James Franco and "The Office" showed he's no threat to Hugh Jackman in the song-and-dance department, but the Brit's polarizing hosting gig last night reminded me of what I want first and foremost from any awards ceremony emcee: big laughs, and a lot of them.
Whether baldly deriding "The Tourist" or (my personal highlight of the show) introducing Bruce Willis as Ashton Kutcher, Sr., Gervais brought a welcome jolt of danger and spontaneity to what was mostly a surprise-free show, correctly gauging the appropriate level of irony to take towards an institution already well aware of its many detractors. I have no idea what to expect from next month's Academy Awards show — perhaps Anne Hathaway has been hiding her mad stand-up skillz under a bushel all this time — but if it makes me laugh quite as hard as I did last night, I'll be surprised.
[Photo: Contactmusic.com]