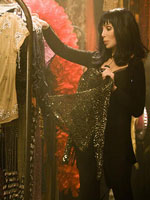 My predictions for tonight's Golden Globe awards have been in black-and-white over at Gold Derby since the nominations were announced, but I thought I'd make them clear on these pages — along with a note or two on my personal favorites in each category.
The Globes may get a lot of flak from journos and pundits, but even if they've failed to steer the Academy's eventual Best Picture selection for five of the past six years, they can hold more sway than most people like to credit them with — particularly in races with no clear frontrunner yet. (Case in point: Rachel Weisz's widely unexpected win at the 2005 Globes, which certainly set the narrative for the rest of season.)
Bottom line, however: they're a fun evening, and should be taken as such. I may or may not be Twittering on the evening's developments — though it seems only right to have a few drinks in solidarity with the stars, so that plan may fall away. Meanwhile, check out my picks after the jump, Kris's here… and those of many far wiser pundits over at Gold Derby.
Best Picture (Drama)
Will and should win: "The Fighter"
A crazy prediction, sure, but I made it back in December and I want the bragging rights if lightning strikes. "The King's Speech" versus "The Social Network" is a tough call with this crowd, but in a voting group as small as the HFPA, Option C sometimes emerges victorious when voters are evenly divided over two leading contenders: remember when "Scent of a Woman" pulled off that unlikely victory over "Unforgiven" and "Howards End?" As for my personal pick, as on my Top 10 list, the boxer just has it over the ballerina.
Best Picture (Comedy or Musical)
Will and should win: "The Kids Are All Right"
The HFPA voters have taken enough of a beating over the nominees in this category; they're certainly not going to invite another by denying the one critically approved title in the race its due. That said, how delicious would it be to see "Burlesque" (whose nomination you know I'll gladly defend) infuriate the pundits here?
Best Director
Will win: David Fincher, "The Social Network"
Should win: Darren Aronofsky, "Black Swan"
Even if their hearts lead them elsewhere in the top race, they'll feel comfortable rewarding the season's top dog here: in a category that pits one relative rookie against a generation of one-time iconoclasts, Fincher holds the position of the most established, and therefore overdue, name on the list. For my own pick, I all but flipped a coin between Aronofsky and David O. Russell, but the former's risky melding of high and low art just shaded it.
Best Actor (Drama)
Will win: Colin Firth, "The King's Speech"
Should win: Ryan Gosling, "Blue Valentine"
Last year's trial awards run for "A Single Man" couldn't have set up Firth's 2010 campaign any more neatly: he'll continue his cruise to the Oscar here, charming the pants off everyone with another sweetly self-deprecating speech, to such an extent that one almost feel churlish pointing out that last year's performance was the more deserving one. Of course, if voters are actually looking at the performances, Gosling wins this by a country mile — but they aren't, and it was ever thus.
Best Actress (Drama)
Will win: Natalie Portman, "Black Swan"
Should win: Nicole Kidman, "Rabbit Hole"
That Portman already has a Globe on her mantelpiece, for a previous career high, will not impede her clear run to victory here, particularly with her chief Oscar opponent over in the comedy race. With four such startling performances in the running — sorry, Halle — I'd personally be content with any of them winning, but Kidman narrowly earns my vote for taking such a courageously prickly approach to material that could invite cheap sympathy.
Best Actor (Comedy or Musical)
Will and should win: Paul Giamatti, "Barney's Version"
Most are predicting a Johnny Depp victory, but I'm thinking (or perhaps just hoping) that HFPA members feel suitably cowed by the mass criticism of his double-dip to look elsewhere — and even if they don't, perhaps their affections will be fatally split between the two performances. They can save face by picking Giamatti, whom most would agree is the only actor pulling his weight in this category, even if his vehicle stalled.
Best Actress (Comedy or Musical)
Will win: Annette Bening, "The Kids Are All Right"
Should win: Emma Stone, "Easy A"
Funny that Bening, not an actress one would identify first and foremost as a comedienne, will easily nab her second career win in this category, while the dramatic prize continues to elude her. I'd ask why Julianne Moore isn't more of a threat to her chances — but I've been asking that same question for nearly a year, and I still don't know the answer. Emma Stone sits this one out despite giving the performance of the year, but her day will come.
Best Supporting Actor
Will and should win: Christian Bale, "The Fighter"
Seems like this should be set in stone, but I wonder. How much do they like "The King's Speech?" Some continue to predict a Michael Douglas sympathy win, which seems less likely to me — and would be something of an awkward moment after last week's good news. Still, while his thorny industry rep was initially mooted as an obstacle in some quarters, Bale has been on good, even charming, behavior all season long — I don't see how he doesn't take this.
Best Supporting Actress
Will win: Melissa Leo, "The Fighter"
Should win: Jacki Weaver, "Animal Kingdom"
This continues to be the most volatile of the major contests, even without the presence of Hailee Steinfeld. I'm going with Leo as the season's default frontrunner, but I'm not certain in this case — Globe voters didn't even nominate the character actress two years ago for "Frozen River," and may once more gravitate towards bigger names. For once, it easy to make a case for any of the five nominees winning — and with the exception of Helena Bonham-Carter, the same goes for my "should win" pick.
Best Screenplay
Will win: Aaron Sorkin, "The Social Network"
Should win: Lisa Cholodenko and Stuart Blumberg, "The Kids Are All Right"
Sorkin. End of. Like the New York Film Critics' Circle, however, I'd personally favor Cholodenko and Blumberg's tricky but generous tangle of character conflicts over Sorkin's impressive verbal acrobatics.
Best Foreign Language Film
Will win: "Biutiful"
Should win (of three seen): "I Am Love"
I'm guessing the star power of Bardem, the name appeal of Iñárritu, and the film's own heavy-handed "this is serious" portentousness will edge the win, though I'm starting to sense Susanne Bier's "In a Better World," which I still haven't seen, as a spoiler — both here, and for the Oscar.
Best Animated Feature
Will win: "Toy Story 3"
Should win: "The Illusionist"
Hey, did you know I really like "The Illusionist?"
Best Original Score
Will win: Hans Zimmer, "Inception"
Should win: Trent Reznor and Atticus Ross, "The Social Network"
In my experience, this is by far the least predictable category at the Globes — with previous winners including such invisible titles as "A Walk in the Clouds," "The Legend of 1900" and "The Painted Veil," it's always a mistake to bank on name power here. Throw a dart at the board, frankly — and pray it doesn't land on "Alice in Wonderland."
Best Original Song
Will and should win: "You Haven't Seen the Last of Me" from "Burlesque"
Not exactly a vintage slate of nominees, this, so I'm counting on voters using this category to indirectly reward Cher for making "Burlesque" as much fun as it is — after all, the studio flew them all out to Vegas for her show and they didn't even have the courtesy to nominate her. Payback time.
Who are you betting on? Share your thoughts in the comments.