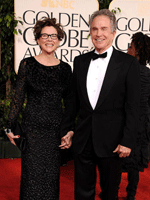 Zzzzz…huh?, wha?  Oh…
First and foremost, I have to note Ricky Gervais's work as emcee. Last year's stint was a bit stale, I thought, but this year the gloves were off. Way off. Which, for whatever reason, I was okay with tonight. The difference between Gervais and Armond White, though, if you want to go there, is that one is expected (and paid) to act like a clown. The other is not.
And I have to think "That was my favorite film of the year" was a subtle joke. Not that subtle was in his toolbox.
Anyway, kicking things off, Christian Bale's speech in acceptance of yet another Best Supporting Actor trophy slid off the rails a bit toward the end as he rushed an impromptu shout-out to actor Robert De Niro. Apparently in the press room he said the legend was "the shit," so maybe that's similar to what was censored from the telecast. Earlier in the speech, though, he paid lovely homage to "The Fighter" actor and producer Mark Wahlberg. "You can only give a loud performance like mine when you have a quiet, stoic anchor," he said.
His co-star, Melissa Leo, also took down another televised Best Supporting Actress award, but the speech was a lot less graceful than Friday night's, I'd say. Still, I thought Helena Bonham Carter had a shot at that one, so chalk it up to another likely inevitability.
I thought Lee Unkrich did a nice job of at least trying to present Toy Story 3″ as a film that deserves a place at the table by noting "historic" box office numbers and that it "beat with a human heart." And that "were you two even born when the first 'Toy Story' came out" joke aimed at presenters Hailee Steinfeld and Justin Bieber was another nice touch in that vein.  As was seeing Tom Hanks and Tim Allen on stage together.
When Annette Bening's name was inevitably announced as winner of the award for Best Actress in a Comedy or Musical, my immediate thought was, "This is her chance to turn the corner on this season, if at all." Playing the Hollywood royalty card so emphatically might have slayed them. Or brought the race tighter. No, seriously…
One almost thinks the HFPA actively voted for anyone BUT Johnny Depp in the comedy actor field, given the added attention paid to perennial star-f***ing this year, but I might have expected Kevin Spacey before Paul Giamatti. So a fresh change of pace was appreciated there.
I had heard going into the night that Susanne Bier's "In a Better World" was the one to watch for an upset in the Best Foreign Language Film category but didn't bother making a predictions (10/14, by the way) change. Lo and behold…
But the original score win for "The Social Network" was the early sign that the film would dominate the evening.  Wins for Best Screenplay, Best Director and Best Picture (Drama) soon followed. Lined up like dominoes through February 27 at this point.
I don't think words can do justice to Robert De Niro's Rupert Pupkin-esque monologue in acceptance of the Cecil B. De Mille Award.  Yeesh.  And the HFPA got its TV moment after all with Michael Douglas presenting Best Picture (Drama) after losing the supporting actor category.
Meanwhile, bravo to Michelle Pfeiffer, Bruce Willis and Megan Fox for announcing "Alice in Wonderland," "Red" and "The Tourist," respectively, as Best Picture nominees while maintaining a straight face. Could "The Kids Are All Right" have lucked out any sweeter?
And by the way, did Brangelina look like Caesars wondering why the lions were taking so long to kill the Christians to anyone else?  Just me?  Okay, just wondering.
Anyway, onnward.  Check out tonight's full list of film winners at The Circuit.
[Photo: Getty Images]