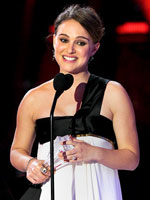 I'm sure Kris is having entirely too good a time at the post-awards party to huddle over a computer screen — perhaps he'll have some insider perspective to add later — so let's run through a couple of the most salient points for now.
If you need to be told "The Social Network" triumphed in the top categories, well, welcome back from your spiritual retreat in the far reaches of Nepal. I hope you're well rested. Interesting to see the film's sway extending to the Best Original Score category, where Trent Reznor and Atticus Ross very coolly upset Hans Zimmer — though "Inception" fans will be pleased to note the film's impressive haul elsewhere in the techs.
No surprises whatsoever in the acting races, though I'm pleased to see Melissa Leo holding on to her early-season momentum in the supporting actress race; Hailee Steinfeld had to settle for the Best Young Actor prize.
If Leo takes the Golden Globe on Sunday, as most suspect she will, this weekend could set her up nicely for the rest of the season. Either way, this remains by far the most competitive of the major races. It was a good night for the cast of "The Fighter," with wins for Christian Bale (duh) and the ensemble. Will SAG follow suit in the latter category?
Beyond that, I start running out of things to say. Nice to see some love for "Easy A" in the token Best Comedy category (take note, Hollywood Foreign Press), while the group's thoroughly populist choices in the Foreign and Documentary races really give the lie to the overly presumptuous title "Critics' Choice." Anyway, can't say I watched the ceremony myself, so fill me in — any highlights along the lines of last year's Sandra-Meryl smooch?
Check out the full list of winners at The Circuit.
[Photo: BFCA]