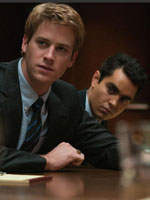 • The Directors' Guild of America presented few surprises in their award nominations, though some raised eyebrows at "True Grit"'s omission. (Their documentary nods didn't move the needle either.)
• The American Cinema Editors' nods matched those of the directors; the American Society of Cinematographers didn't deviate much from the formula either.
• This week's Off the Carpet column addressed the growing consensus around a "Social Network" win, days before Kris formally made the prediction himself.
• The Long Shot, meanwhile, wondered how the field of contenders this season ever got quite so narrow.
• The National Society of Film Critics offered the last major critics' awards picks of the season — and folded a couple of surprises in with the "Social Network" steamroll.
• Over at the New York Film Critics' Circle ceremony, meanwhile, Armond White rubbed a few guests the wrong way.
• Chad wrapped up his Life Without Oscar series with a look at recently Academy-ignored work from 2007 and 2008.
• Away from the Guilds, AMPAS themselves revealed their Best Makeup shortlist, allowing us the possibility of the words "Oscar nominee 'Jonah Hex.'"
• With all the technical Guild announcements, it seemed an appropriate time for our First-Half FYC column to name some outstanding craft contributions from early 2010.
• Our Tech Support Interview series continued with some insight into the below-the-line work on "TRON Legacy."
• We also interviewed the star of season underperformer "The Way Back," Jim Sturgess.
• Speaking of lost contenders, we tardily spoke up in favor of Tyler Perry's "For Colored Girls."
• With the nine-film shortlist due to land next week, we caught up with four more foreign-language Oscar contenders.
• "True Grit" became the financial story of the season, as it climbed to the top of the box-office chart.
• One week ahead of their general nominations, BAFTA named the five actors shortlisted for their Rising Star award.
• And as usual, Kris and Anne tried to make sense of it all in this week's episode of Oscar Talk.