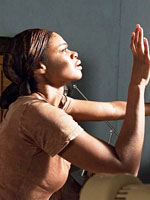 Thanks to a crippling flu attack during the film's blink-and-you'll-miss-it UK release, I was late in getting round to Tyler Perry's "For Colored Girls" — a rumored Oscar spoiler for about seven-and-a-half minutes back in the autumn, before Lionsgate got curiously tentative about publicizing it.
A paucity of press screenings meant several key online voices missed the film entirely; they haven't been that generous with awards screeners, either.
Given Perry's history, and the steamroller-subtle nature of the film, the studio can't have been expecting a critical hit — though it found some prominent supporters anyway, chief among them Manohla Dargis. I heard from a number of people I trust that the film, a free adaptation of Ntozake Shange's beloved 1970s "choreopoem," was messy and misjudged, while others acknowledged that it retained an inelegant brute power.
Finally seeing the film for myself, I discovered that all this, at various points, is true. I liked it a great deal — Perry's a clumsy but full-blooded stylist, and his interpretation of Shange's work, chaotic and often chintzy as it is, is rewardingly fat with language and feeling — but this was never going to be a Best Picture runner. "Precious," like "Boyz N the Hood" nearly 20 years ago, may have proved Academy types aren't wholly averse to African-American filmmaking, but the aggressively theatrical bombast of "For Colored Girls" was surely a bridge too far.
That's not to say Lionsgate should have dispensed with a campaign entirely, because had they promoted the hell out of this thing to the actors (and, harsh as it sounds, been a little more strategically selective about which of the film's nine co-leads to push), they could have had something here. For the film's ensemble is a fascinating one, bursting with actresses tackling this dense material at wildly different pitches but with equal commitment — and a couple of stunning performances emerge from the clash.
Chief among them is the extraordinary Kimberly Elise, an actress who deserved an awards break in 1998 for her best-in-show turn in the similarly uneven but impassioned "Beloved" — and 12 years later, is once more the great lost Best Supporting Actress contender of the 2010 season.
Playing a stoic victim of domestic abuse who pays the worst imaginable price for her acquiescence, she counter-intuitively sidesteps the obvious traps of her director's full-throttle approach: tersely quiet where lesser actresses would wallow in self-pitying histrionics, it's profoundly moving and upsetting work that could well have benefited from a more focused Best Supporting Actress campaign. (Particularly with the Academy taking some flak for what will doubtless be the first all-white slate of acting nominees in 10 years — not that I condone such factors entering the conversation.)
As the emotional centerpiece of the film, Elise's performance would have been the first place for voters to look, but her co-stars produce enough high-level thesping between them to justify ensemble honors that didn't materialize either. Anika Noni Rose, in particular, merits an individual shout, principally for a seething post-rape monologue that lands just on the right side of the film's stage origins. As a sex-addicted bartender, Thandie Newton turns in some of the most alert, adventurous work of her career, while Janet Jackson's tight range has never been more strikingly deployed.
And while I've admitted to a bias in this respect, Macy Gray's unnerving cameo as a Harlem backstreet abortionist — in which she negotiates more fluidly than anyone the script's slightly awkward segues from Perry's dialogue to Shange's spoken-word poetry, admittedly with the dramatic alibi of alcoholism — further convinces me she's one brave casting decision away from a Mo'Nique moment.
Still, this valuable if occasionally vexing film is principally Kimberly Elise's triumph. I realize that her name is probably on precious few of the Oscar ballots being turned in ahead of today's deadline, but that's all the more reason to salute her. I can hardly chide voters for not seeing the film: I nearly didn't myself, after all. Sorry, Kimberly — had I known, I'd have banged the drum harder.
[Photo: Lionsgate]