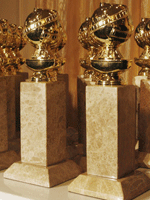 The Critics' Choice Movie Awards are tonight a 6pm.  I have generally refrained from predicting those awards since becoming a BFCA member four years ago, but I think we can all take an educated guess as to which way the wind will blow this evening.
Sunday, the Golden Globes keep the party going as 90 glad-handed foreign press members bestow awards for the year's best.  For some reason Ricky Gervais was asked back to host after last year's awkward snooze-fest.  He'll be doing the song and dance for a drunken crowd.  The usual.  (Anyone missing the year they had to just get it over with via Access Hollywood?  Honest question.)
Anyway, here's the usual space for predictions.  I'm not taking too many risks and I feel pretty good about most of my calls.  It's very much a predictable affair, I think.  Unlike last year (when I was criticized for such a stupid call as "The Hangover" for Best Picture — yep).  I frankly think everyone is filing in line, ready for it to be over.  So chalk it up to the frontrunner and let's get out of this season.
Oh, wait…six more weeks.
Best Picture (Drama)
"The Social Network"
Best Picture (Comedy/Musical)
"The Kids Are All Right"
Best Director
David Fincher, "The Social Network" (Nolan could easily steal this I think)
Best Actor (Drama)
Colin Firth, "The King's Speech"
Best Actor (Comedy/Musical)
Johnny Depp, "Alice in Wonderland" (if there's a surprise, I think it'll be here)
Best Actress (Drama)
Natalie Portman, "Black Swan"
Best Actress (Comedy/Musical)
Annette Bening, "The Kids Are All Right"
Best Supporting Actor
Christian Bale, "The Fighter"
Best Supporting Actress
Helena Bonham Carter, "The King's Speech"
Best Screenplay
"The Social Network"
Best Original Score
"Inception"
Best Original Song
"You Haven't Seen the Last of Me" from "Burlesque"
Best Animated Feature
"Toy Story 3"
Best Foreign Language Film
"I Am Love"