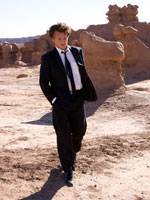 If, as is the accepted (if hardly certain) wisdom, the Academy makes up their debt to Roger Deakins next month, it's tempting to speculate that 2011 could be the year for another shamefully unrewarded lenser: Emmanuel Lubezki.
The ace Mexican DP, whom pretty much everyone but a majority of AMPAS voters agrees was robbed of the win for "Children of Men" in 2006, earned a nomination for his first collaboration with Terrence Malick on "The New World" — and expectations are already off the charts for their second teaming. (Do I need to give the title?) But while we know, from our glimpses of the loooong-delayed film thus far, to expect some lush imagery, this LA Times interview with Lubezki suggests they're not making things easy for themselves.
It seems Malick and Lubezki dispensed with traditional "coverage" of actors, instead taking a more intuitive approach.
As Lubezki explains it:
So the actors are performing the dialogue, but Terry isn't interested in dialogue. So they're talking, and we're shooting a reflection or we're shooting the wind or we're shooting the frame of the window, and then we finally pan to them when they finish the dialogue … Photography is not used to illustrate dialogue or a performance … We're using it to capture emotion so that the movie is very experiential. It's meant to trigger tons of memories, like a scent or a perfume.
According to Lubezki, the film's performers were a little thrown by the approach — it remains to be seen, much like everything in this tantalizing question mark of a movie, whether we are too. Read the rest here.
[Photo: Fox Searchlight]