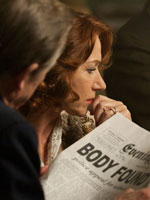 Way back in the autumn festival phase, it seemed like Rowan Joffe's update of "Brighton Rock" might have some kind of awards presence, as praise trickled out of Toronto for breakout star Andrea Riseborough. Things went deadly quiet around the film, however, when no US distributor stepped forward.
A month later, when it had its homeland premiere at the London Film Festival, I learned the reason for the silence: Joffe's film is a badly botched attempt to recast Graham Greene's stark moral thriller as a swinging youth nostalgia piece. I might have let my disappointment show a little in my review:
[S]carcely a potential avenue for error has been left unexplored here, as the film's self-conscious (and technically over-egged) noir stylings bristle against a clearly overworked script that fidgets to no effect with Greene's plotting, with a cast that never coalesces floating somewhere amid the wreckage.
Still, despite a tepid critical reception, the film has had a decent awards profile in the UK, managing a scattering of BIFA nods and seven BAFTA longlist mentions — Riseborough's performance leading the way in both cases. Now, IFC has stepped forward to distribute the film Stateside in summer, none of which suggests you should overly bother your 2011 Oscar predictions with it (even if I did once declare the film "a veritable shoo-in" for art direction honors) — though perhaps American critics will be more merciful.
Check out the UK trailer here.
[Photo: IFC Films]