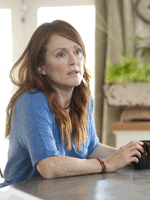 Last week it was announced that Fox Searchlight would be issuing screeners of its Oscar contenders to SAG voters online via iTunes.  A brave step forward.  Today comes the news that two other studio have followed suit.  The press releases, in part:
Focus Features is inviting the nearly 100,000 Screen Actors Guild eligible voting members to screen its movie The Kids Are All Right in HD on iTunes for viewing on an iPad, iPhone, iPod touch, Mac or PC, or with Apple TV on their HD TV.

The Kids Are All Right, which is nominated for 3 Screen Actors Guild (SAG) Awards®, is available to SAG members – pending confirmation of valid current ID – for a complimentary 24-hour rental any time from Friday, January 14th through Friday, January 28th, when voting for the SAG Awards closes.
And:
Paramount Pictures and Relativity Media will offer THE FIGHTER for awards consideration to Screen Actors Guild (SAG) eligible voting members on iTunes. Beginning Friday, January 14th, THE FIGHTER can be downloaded in HD from iTunes for viewing on an iPad, iPhone, iPod touch, Mac or PC, or on an HDTV with Apple TV. The film will be available to members from January 14th through 28th during the SAG awards consideration window.

"The recognition THE FIGHTER has received has been tremendous and this opportunity to provide an exciting digital means for SAG members to see the film is something that we are extremely pleased to be able to offer with the help of both iTunes and SAG," said Rob Moore, Vice Chairman Paramount Pictures.
[Photo: Focus Features]