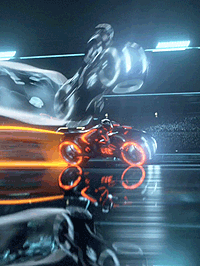 It's somewhat intriguing to note how far the visual effects side of filmmaking has come in the last three decades.  When "TRON" was released in 1982, it's FX wizardry was disqualified from Academy Award consideration.  The reason: the use of computer technology to achieve its look and environment was deemed, believe it or not, "cheating."
Today, hard drives and databases are considered vital tools in the filmmaker's arsenal, and not simply in the blockbuster realm, either.  Not only that, but digital production is very much the future of the medium.  And the craftsmen and women at Digital Domain are a big part of that ever-changing equation.
A few weeks back I trekked out to the company's Venice, CA production facility to talk about the work put into that film's sequel, "TRON Legacy," with CEO Cliff Plumer, commercial division head Ed Ulbrich, visual effects supervisor Eric Barba and animation head Steve Preeg.  That new vision was very much at the forefront of discussion.
"We're really pushing more of a new digital production company," Plumer, who came up through Lucasfilm and Industrial Light and Magic, says by way of introduction.  "And 'TRON Legacy' pushed a lot of that.  When we started on it, there was nothing.  There wasn't a script.  There was an idea: 'We want to re-boot 'TRON.'"
The big problem was this idea, which was being kicked around by director Joseph Kosinski (who had a history of producing commercials with the company), began to gestate in the midst of the WGA writers strike.  So while no script could be drawn up, Plumer and the team figured they could at least start designing the film.  That was three years ago.  What started to evolve was this new process that seemed to flip the traditional approach on its ear.
"You think historically of these big Hollywood movies, they're very much produced in silos," Plumer says.  "You've got concept art department, pre-production, principle photography, post-production.  We didn't have that.  This was all just straight digital production from day one."
Adds Ulbrich, "We were able to introduce Joe to his production designer and build an art team around him that speaks our language.  This is a digital production.  There's no 'post,' really.  We're doing post first.  It's just turning the whole thing upside down."
Kosinski is close with director David Fincher, who is a mentor of sorts for the young director, Ulbrich says.  And of course Digital Domain has a very long history with Fincher, going back to the music video for The Rolling Stones' "Love is Strong."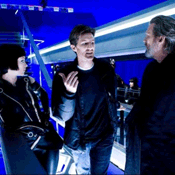 "What's great about the commercial business is you can incubate these relationships with talent," Ulbrich says.  "The idea is we get involved with these directors in their early careers, then as they come up, there's a whole team that comes along with them."
Says Plumer, "We were Joe's crew.  He had access to everywhere in this studio.  So it was good for him as a filmmaker and for the crew, also.  We're getting direct feedback on what we're doing on a daily basis."
So they set about crafting a world.  The idea was to be artistically respectful of the first film while differentiating from all the other "noise" that's out there.  It had to have a signature look, feel and smell unlike any other movie that's ever been made, yet be true to "TRON."
But that was always going to be part of the pre-production hump.  Next they needed to attract talent to the production, namely actor Jeff Bridges, who starred in the original film.  "Tell me what you're going to do that no one's ever seen before," Bridges reportedly told the crew.  Well, they had something in mind.
Work on Fincher's "The Curious Case of Benjamin Button" was moving along in mid-2008.  Digital Domain was doing things on that film that were frankly making the company more relevant than ever.  They screened some footage for the actor and he was hooked on the possibilities.
"He was just blown away," Ulbrich says.  "That was kind of the turning point for him.  Because the idea was, 'You're going to play both of your roles, but instead of animators interpreting your performance for CLU, it's going to be a direct-drive process where you will play CLU.  Later we'll put your digital 'you' in, but it's your performance.'  So that's when he agreed to be a part of this project and be in this test that we did."
That "test" was a short trailer of sorts depicting a light cycle race (in classic "TRON" fashion) while adding a darker edge to the tone of the production pitch.  "It was really a transformative moment where it was like, 'This could be amazing,'" Ulbrich says.  "The team that came together to do that, they never wrapped.  And eventually Disney got behind it and we saw we could actually take this to Comic-Con."
And so they did.  In fact, for two years in a row they brought that footage to the annual San Diego convention to both excite the fan base and show the suits at Disney that there was an appetite for the film.  Then it was off to the races.  (They later came back a third time in 2010 with footage from the finished product.)
"This was a huge production," Plumer says.  "I've done 'Star Wars' movies, big movies.  This is just as big as anything like that, but even more complex, because the most complex character you can have in a film is a digital human."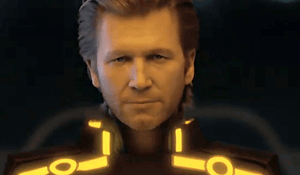 Indeed, the biggest challenge was always going to be depicting a youthful Jeff Bridges on screen.  "Going into 'Benjamin Button,' we already knew how difficult a challenge we had in front of us," Barba says.  He won an Oscar for his work on the film and says jokingly that he hasn't had a day off in three years.  "We'd been through the visual test in 2004 and a series of Orville Redenbacher spots that Fincher used to prep our team and get us thinking about what we had to build.  But no one knows what Brad Pitt will look like in his late-80s, so we had some artistic license.  Everyone knows what Jeff Bridges looked like 20 years ago.  And everyone has a different ideal of Jeff Bridges in their mind."
Their guide, by the way: Taylor Hackford's 1984 film "Against All Odds," featuring Bridges as a professional football player and arguably at the peak of his physique.
Also challenging was the use of stereoscopic 3D technology.  The only other film that was truly being originated in "stereo" was James Cameron's "Avatar," which hadn't been released yet.
"We were kind of on parallel tracks," Plumer says.  "They were kind of ahead of us.  We didn't know how they were approaching things so we had to kind of figure out things on our own.  And the technology was still very new."
Production took place in Vancouver for the most part.  They loved the area so much that they decided to build a new studio there, hoping to further push Digital Domain's vision of fully digital filmmaking into a new decade of blockbuster entertainment.
And 2010 presents an interesting dialogue to be had between "special effects," as represented by the practical FX wizardry of Christopher Nolan's "Inception," and "visual effects," as represented by "TRON Legacy." It's interesting, Preeg notes, that both are included in the same Oscar category, seeing as they are very different art forms.
"As a supervisor, there's been many times where I've decided to use miniature versus CG," Barba says.  "But less and less so, because it's just too expensive.  And the directors don't like it as much because on a shoot day it takes a lot more time to light and set up and get what you want.  And it's less malleable afterward."
When Digital Domain opened, the first film right out of the gate was Cameron's "True Lies." Back then, "digital" meant compositing.  And once upon a time, the studio had the largest models and miniatures shop in the industry, Ulbrich says.  But the mission statement has shifted as of late, and largely because of what was accomplished on "TRON Legacy." From here, "Digital Domain" takes on a whole new definition.
(NOTE: This will conclude the Tech Support Interview series for now.  Gerard will be back next week to offer up last-minute thoughts on the crafts races leading up to the January 25 Oscar nominations announcement.)
[Photos: Walt Disney Pictures]