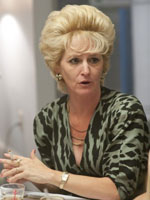 When the Costume Designers' Guild announce their nominees next week, I have no doubt that Mark Bridges' work on "The Fighter" will show up in their contemporary category — not really the right classification for a film whose lurid early-1990s threads are as meticulously era-specific as any of 2010's more lavish period spectacles. (If you didn't cringe and/or chuckle at the first sight of Christian Bale's balloon pants, chances are you weren't alive in 1991.)
Either way, it remains perhaps my favorite costuming of the year, even if the Academy is unlikely to agree. That said, they've been warming to more modern work in recent years — with nods for the high-gloss couture of "The Devil Wears Prada" and the cheap 70s duds of "Milk" — even if corsets and hoop skirts invariably eke out the win.
This year's Costume Design field, however, is lean enough that a contemporary nominee or two could squeeze in.
Obviously, the more ornamental creations for "Burlesque" and "Black Swan" are way ahead in that line, but I'm personally rooting for Bridges, an inspired designer overdue for some respect from this branch — between his work on "Boogie Nights," "Blow" (for which he received a period Guild nod), "I Heart Huckabees" and "There Will Be Blood," he should have at least one Oscar nod to his credit.
I was pleased to see, then, that I'm not the only one impressed by his unpretty wardrobe for "The Fighter." Kristin M. Burke, an active Hollywood costume designer herself and founder of Frocktalk, an excellent site devoted to the craft, has posted an interesting interview with Bridges which reveals just how much thought and effort goes into those seemingly casual threads. I particularly like his description of how the appropriately unsubtle look for Melissa Leo's larger-than-life Alice Ward came about:
I had a first fitting with her with her real hair, which was longish dark blond/brown. Between that and the first go-round of clothes, the result was period, real and maternal, but rather dull and flat. I showed David the photos from the fitting and he said, "More sexy! More leg!"

So I really pumped it up by making everything tighter, shorter, more 1980s and younger. At the second fitting her hair had been cut and colored and with the new clothes, something very exciting was happening. We knew we had found Alice, and she was hot! Many of the details of her look were based on the real Alice – her use of jewelry, the bodysuits, the length of skirt to show off her legs, matching purses and shoes. Melissa was all for it!
Great stuff. Check out the rest here.
[Photo: Paramount Pictures]