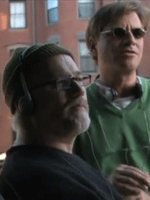 Of course, no shock that the clearest vision and interpretation of the film comes from the guy responsible for it:
I hate the awards part of the moviemaking process…And besides, on Social Network, I didn't really agree with the critics' praise. It interested me that Social Network was about friendships that dissolved through this thing that promised friendships, but I didn't think we were ripping the lid off anything. The movie is true to a time and a kind of person, but I was never trying to turn a mirror on a generation…Let's hope we strove to get at something interesting, but Social Network is not earth-shattering.
From the director's interview with W Magazine.
[Photo: Columbia Pictures]