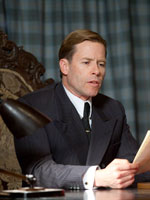 As I did last year when Kris posted his pre-nomination winner predictions, I tallied up your responses to see how our readers currently view the race. And either you're blind disciples of Kris or, far more likely, we're in for one surprise-free season, as your collective predictions match his in every category but two — for Art Direction and Costume Design, more of you think (or hope?) "The King's Speech" will fend off "Alice in Wonderland."
A tight split between "Life, Above All" (Kris's pick, and mine) and "Biutiful" says you're not sure how Best Foreign Language Film will pan out, either — largely because most of you opted out of a prediction there. (Come on, guys — risk-takers get the bragging rights!) But you're absolutely unanimous on Best Director, Adapted Screenplay and Animated Feature, with lone holdouts on Best Actor, Supporting Actor and Visual Effects.
Can it all be so easy, so early?
[Image: The Weinstein Company]