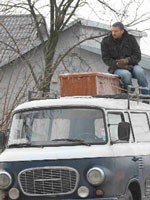 A couple of months ago, I compiled some critical thoughts on five films in contention for the Best Foreign Language Film Oscar, ranging from the hotly fancied (France's "Of Gods and Men") to the longest of long shots (Estonia's "The Temptation of St. Tony"). It was intended to be the first in a series of posts spotlighting as many of the 65 submissions as I could get my hands on — but alas, in the chaos of the season, my plans got away from me.
Now, with exactly a week to go until the Academy announces the nine-film shortlist on 19 January, it's time to belatedly return to the category. At this late stage, I've still seen only a third of the competing field, with a handful of unseen screeners patiently piled atop my DVD player. Sadly, two of the films most heavily tipped for a nomination — Canada's "Incendies" and Denmark's Golden Globe-nominated "In a Better World" — are not among them.
I have, however, caught up with the submissions of four countries frequently favored by the Academy. My viewing, however, only confirmed the relative scarcity of obvious heavyweights in what is always an unpredictable race.
We'll start with, if not the likeliest nominee, the strongest film in this randomly assembled quartet: Israel's "The Human Resources Manager" (***). The country is something of a neglected Academy pet: it currently holds the record for most nominations in the category (nine) without a win. Three of those nominations, you might recall, have come in the last three years, but where "Beaufort," "Waltz With Bashir" and "Ajami" were all solemnly earnest reflections on Israel's fractured recent history, "The Human Resources Manager" is a gentle, character-led comedy with a fuzzier political agenda.
Director Eran Riklis impressed with his previous feature "Lemon Tree," an unadorned this-is-my-land drama anchored by a powerhouse Hiam Abbass performance; his latest doesn't match that film's power or clarity, and takes a full act to find its feet tonally, but gradually reveals hidden reserves of compassion and irony. The appealingly doleful Mark Ivanir stars as the titular superior at an industrial Jerusalem bakery, who, following allegations of bureaucratic corruption, is assigned to escort the body of a Romanian employee (killed in a bomb attack) back to her home country as a face-saving PR measure.
Riklis makes needlessly hard work of this setup, foregrounding inessential details and skimping on situational humor, not helped by an all-too-familiar subplot involving the divorced protagonist's unreliable commitment to his daughter. Once Ivanir leaves Jerusalem, however, the film unclenches and enters easygoing if melancholic road-movie territory, its growing ensemble of unwilling misfits and assorted situational obstacles suggesting a more sourly European "Little Miss Sunshine" riff.
Just as the film threatens to tip over into cloying we-are-the-worldisms, however, Riklis pulls out a pithy final-act reversal that cements the film's casual questions of national identity and belonging. It may yet help this uneven but genially unassuming film continue Israel's Oscar hot streak.
A betting man might be wiser to look to the category's most-awarded country. Though Italy hasn't managed a nomination here in five years, I hear second-hand (and therefore not wholly reliable) whispers that voters in the foreign language branch are thoroughly taken with this year's entry — this despite it being controversially selected at the expense of critical favorite "I Am Love." One viewing of Paolo Virzi's harmless but creakily sentimental family melodrama "The First Beautiful Thing" (**), however, makes such reports very easy to believe: this is remake-ready Lifetime material disguised with a foreign accent and fussy structural notions.
In unwrapping the bitter middle-aged ennui of a drug-addicted college professor Bruno (Valerio Mastandrea), the film employs twin linear timescales to locate both the source of, and solution to, his unhappiness. Naturally, this being an Italian story and obvious with it, it all comes down to his mother, a rapturously beautiful free spirit whose ungrounded lifestyle gradually drove a wedge between her and her more stern, scholarly son. If I tell you that said mother is dying of cancer in the present day, forcing Bruno to renege on years of estrangement, you needn't think too hard to guess where this is going — but the film's overly methodical flashback scheme, weighted too metronomically between past and present, makes the journey as lengthy as it is unilluminating.
The film slips by painlessly enough, while the teary finale — into which Virzi brazenly stuffs a wedding and a funeral, alongside myriad reunions and reconciliations — will please those who prefer their melodrama served straight up, without sleek stylization or irony. (Accuse the Italian selectors of artistic treachery if you wish, but they seem to know their audience.) Mastandrea works hard in the lead, though he's hemmed in his unvaryingly sullen man-child character, one that seems to have become a standby presence in mainstream Italian cinema of late.
"Unvarying sullen," I'm afraid, are two words that cover Germany's entry, the presumably well-intentioned but trite culture-clash drama "When We Leave (*1/2), rather efficiently — though the gloom nurtured by the protagonist in this case is at least a little more well-earned. Sybil Kekilli, a deserved breakout several years ago for her work in Fatih Akin's "Head-On," is afforded a generous thesping showcase here as Umay, a young Turkish-German woman who, with her young son, flees her abusive husband to join her family in Berlin — only to find them unwilling to accept their daughter's breach of Muslim law.
There are rich veins of social and internal conflict in Umay's situation, but this aggressively humorless chamber piece is so diagrammatic in its character network that we never get to them. Dithering between her dimly lit family home, where her one-dimensionally reproving parents scowl and joylessly chop aubergines for hours on end, and the blandly carefree exploits of her non-immigrant German friends, she's required to be more symbolic victim than living, breathing woman — Kekilli is an intelligent, affecting presence, but for all the honors showered upon her performance in Europe and on the festival circuit, she can't find the character beneath the construct.
Much the same goes for first-time writer-director Feo Aladag: an actress herself, she's enormously sympathetic to her star without pushing her into more demanding narrative territory. Instead, repetitive arguments between Umya and her parents (and conservative older brother) continue to retrace long-established familial, cultural and generational divisions — while Aladag waits until the very last scene to pull out a jolting but thematically valueless dramatic coup that turns the film from merely drab to queasily exploitative.
Wishful nods to Fatih Akin's subtler mapping of this ethnic landscape are evident throughout — interestingly, Akin's "The Edge of Heaven" is the only German submission in the last six years to miss out on an Oscar nod, suggesting that the Academy is more interested in the country's history than its multicultural present. I'd like to say that if Akin couldn't break that pattern, Aladag certainly can't — but I also know some voters like their issues writ large.
Despite the country's reasonable track record in this category, I'm more confident in dismissing Sweden's entry "Simple Simon" (**), a manically chipper, primary-colored comedy about Asperger's syndrome that falls into the same trap that last year's similarly themed, if more sedate, Hollywood effort "Adam" did: purporting to empathize with an autistic hero while mining his more extreme eccentricities for dramatic and comic effect. Writer-director Andreas Ohman was reportedly inspired by Mark Haddon's bestseller "The Curious Incident of the Dog in the Night-Time," but his engagement with the disorder doesn't go far beyond the literal, as the title character (Bill Skarsgård, son of Stellan) follows familiarly rigid behavioral patterns that the narrative uses to underline his difference without penetrating his character.
There's an engaging performance from Martin Wallström as Simon's devoted but understandably exasperated brother and protector, but the film is too puppyish and restless to focus on this complex fraternal relationship, bouncing instead into gratingly whimsical romcom territory as Simon plays predictably inept cupid for his sibling. Tonally wearying and scored like a particularly banal Tampax commercial, "Simple Simon"'s over-exerted heart is in the right place, but there's too little nuance in its exploration of Asperger's to escape the patronizing threat of its title.