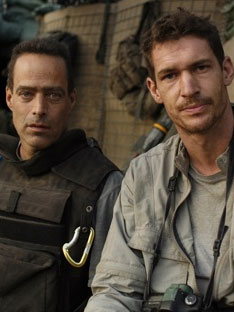 Two days after revealing their feature film nominees, the Directors' Guild of America has named their five selections in the documentary category. It's a list that mostly lends credence to the presumed Oscar frontrunners, with one notable exception: Chinese director Lixin Fan, whose lavishly acclaimed debut "Last Train Home" was left off the Academy's 15-title documentary shortlist, to the dismay of many a critic.
Fan isn't the only first-timer to crack the DGA's list: war journalist Sebastian Junger and photographer Tim Hetherington made the cut for their gutsy foray into filmmaking, "Restrepo." Notably, if not surprisingly, absent is "Exit Through the Gift Shop" director Banksy — the Guild was never likely to tap a celebrity outsider who won't even identify himself, and I suspect the Academy will have similar reservations.
Meanwhile, note the three overlaps between the PGA and DGA lists, "Client 9," "Waiting for Superman" and "Inside Job," with only the last-named film also scoring with the Writers' Guild. Just in case you hadn't spotted the one to beat. Check out the nominees at The Circuit.
[Photo: National Geographic Entertainment]