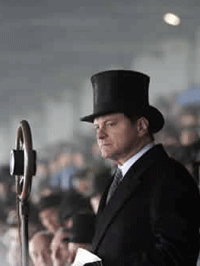 "Tailored largely for the international audience for whom the internal politics of the Royal Family seem never to lose their mystique or fascination," I wrote in my October review of "The King's Speech."
I guess I have to take that back, since the film — which only opened on Friday in its home country — has become a genuine UK box-office phenomenon, as opposed to the specialized success it's been across the pond.
The film handily knocked "Gulliver's Travels" off the #1 spot (bleak times, these) with a weekend gross of £3.52 million. (That's about $5.5 million, if you like your figures translated, though it goes with saying that UK and US numbers are not comparable.) To put that in context, that's over four times what another royal-themed prestige drama, "The Queen," made on only slightly fewer screens back in the autumn of 2006.
As for the last British Oscar heavyweight to open amid the January hype — well, as Charles Gant points out in his Guardian box-office column, fellow crowdpleaser "Slumdog Millionaire" raked in just over half "The King's Speech"'s weekend gross two years ago, albeit with a smaller screen count.
The British public, it would appear, have cast their vote overwhelmingly in favor of the royal biopic ("The Social Network," by the way, had a lesser opening weekend of £2.49 million on an equal number of screens). Expect this bona fide hit status to seal what was already a likely BAFTA victory, while support for the film from the Academy's Brit block could be even feistier than previously thought.
[Photo: The Weinstein Company]