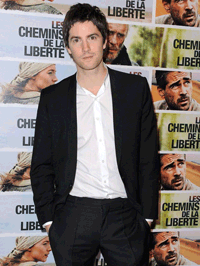 When Jim Sturgess's agents set up a meeting with director Peter Weir, who was casting for his new film "The Way Back," the actor's brain was in a different place.  He was in the middle of filming Philip Ridley's "Heartless" and portraying a troubled soul character.  He had filmed until six in the morning and hadn't slept for what he says felt like weeks.  Naturally, he was unprepared.
But he couldn't leave it at that.  He couldn't let this be his missed opportunity to work with Peter Weir, his chances blown due to the realities of being a working actor.  So he steeled himself, wrote the veteran helmer a letter and, in between shooting scenes from Ridley's film, recorded himself acting out scenes from "The Way Back."
Something obviously clicked, and it's a good thing he went to all the trouble, because Sturgess is pretty sure he wouldn't have been offered the part otherwise.
"He called me in and said that he really liked what I'd done on the tape and would I play Janusz in his film," Sturgess recalls over a croque-monsieur at Palihouse in West Hollywood.  "I just couldn't stop thanking him."
To hear it from Weir (I spoke with the director at the 2010 Telluride Film Festival), the director was looking for a less-heroic take for his leading man.  "The Way Back" might be an epic story of a small group of prisoners who escape a Siberian Gulag and march 4,000 miles out of Communist Asia into India, but he wanted a lead who could grow into the role of leader throughout the course of the film, rather than exhibit those qualities from the outset.
"I only did what I felt was right," Sturgess says of his amateur audition tape.  "But from speaking to Peter, he said that everyone else tried to bring a sort of revenge aspect, almost an anger to get back and right this wrong that had happened to him and his wife.  And he said, 'With you there was something else that came from a sort of kinder place and a sort of need to forgive.'  He was very against Janusz being a hero of any kind, really.  It was brought out of necessity rather than a heroic act of greatness."
The vision served the character well, because while Sturgess doesn't offer a charismatic, bravura leading performance, he produces something magnetic in its own way.  And more authentic, as a result.
Having nailed down the role, the task of research and preparation shortly followed.  Weir "eats books at a hundred miles an hour," Sturgess says, and it was no small feat to keep up.  The director sent over plenty of material, turned Sturgess on to some documentaries and basically encouraged him to learn as much about the time period as he could.  But one of the more helpful moments was putting Sturgess in touch with real survivors of Gulags and camps.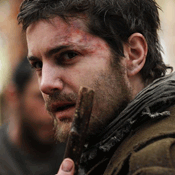 "I was able to look into their eyes and meet these people as people rather than quotes from a history book," he says.  "And that's what I think Peter really wanted to get across of Janusz and all of these people.  They were just normal men who had been put in a very un-normal situation and had to act extraordinarily to get out of there and get back to their lives."
One rarity that helped the film's momentum was the fact that it was largely shot chronologically.  Generally a production is limited to location availability, so it will exhaust all of the scenes in one location before moving on.  But given the particulars of "The Way Back," filming in the wilderness with a small group of actors, Weir was able to capture the building camaraderie as part of the film's experience.
"We didn't know each other particularly well when we were thrown into the Gulag," Sturgess says.  "It was very cold.  There was very little acting required in that department!  And then relationships were built as we went through the journey, and the bonds were made, because we were all going through the same thing.  And by the time we're walking over those tea plantations in India, it's incredible."
Speaking of the ensemble, the English Sturgess says the "Eastern European flavors within the cast" were equally important to sinking into the role.  "You're sort of humbled by how brilliant they are," he says. "And it meant that we all had to be at the top of our game to try and sort of blend in amongst them.  There's a scene where Ed Harris drops some bread in the Gulag, and this guy scavenges around his feet to get the bread.  This guy was one of the top theatrical actors that Bulgaria has to offer.  And he had that one little moment.  And he was so in there and totally committed to what he was doing.  We were surrounded by people like that.  Every extra, every person involved, from the top to the bottom.  And I think that's because of Peter Weir, really.  Because everyone wants to do right for him."
On set, Weir was very giving to the other actors and their ideas, Sturgess says.  "You can tell he has absolute knowledge of what he's doing and absolute control of what he's doing, because he's not afraid of listening to ideas.  And that often comes with someone who's very good at what they do, because they have an absolute set idea of what they want, but of course they're adaptable and willing to change if a better idea comes up.  That doesn't freak him out."
Weir brought in French expeditionist Cyril Delafosse-Guiramand who, inspired by the book, "The Long Walk," on which the film is based, made the trek out of Siberia and into India.  You know, just for fun.
"He taught us how to skin a rabbit and what bits of the rabbit you could eat without having to cook it and how to build a fire and how to look for dry moss in snow," Sturgess recounts.  "He taught me the stick and shadow trick and navigational skills, which were really team-building exercises, too.  It just created a really good team spirit."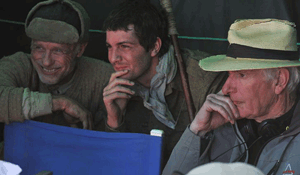 But above all, and as a trademark of Weir cinema, the director encouraged his actors to think about how these people would survive and what they would do — to be absolutely present.  That, Sturgess says, is perhaps the most vital lesson learned on the movie.
"I've never experienced that sort of acting before," he says.  "You don't have to try and give out anything.  You just have to let it all sort of hit you, really, and let it come to you.  He was so adamant about not making this sentimental in any way, and the characters were quite down-played and quite held-in together.  You just exist in the landscape of the film, and I really got a lot out of that.  I think it shows in the film.  It's very real.  You really believe those guys."
It's no secret films like "The Way Back" are endangered in the current Hollywood climate.  This one in particular was rejected by major distribution studios, leaving Exclusive Media Group's newly acquired Newmarket Films (and a new shingle, Wrekin Hill Entertainment) faced with the task (and a fraction of the usual P&A budget).  It's all reflective of dark creative times, Sturgess says.
"I think people need to look closely at what's happening when a Peter Weir film based on a best-selling novel can't get a distributor," he says.  "That's a worrying state of affairs.  And I think people who sort of care about film and care about cinema need to really pay attention to that.
"I speak to people about this every time I have another interview with another director or producer or another actor.  All these scripts are coming in where it's just all based on graphic novels.  I'm not saying I'm not interested, but it's just less variety.  The franchise.  Obviously.  The safe bet.  I understand it.  People need to make money.  And the big films can help the little films and so on and so forth.  But it's the same in music, too.  People just start listening to shit, you know?  And there's  so much great music out there.  It's crazy that you're only connection with music is through Simon Cowell.  And the same is going through film.
"I remember walking through London and there were like four posters on the sides of different buses, and I couldn't differentiate one film from the other.  They were all romantic comedies.  They all had two people in the poster with a white background and red or pink writing, and I wouldn't be able to tell you which film was what.  You knew they were all romantic comedies, because that's what a romantic comedy poster looks like.  Where's the creativity gone?"
But there is hope, he noted.  The queue at his local cinema was around the block for the first time in years in 201o.  The film: Christopher Nolan's "Inception." Maybe there is still a craving for original material after all, he says.  All they need is to have it served up.  The same could be said of Weir's breed of cinema.  All it needs is a push.
"The Way Back" opens in US wide release January 21.
[Photos: Zimbio, Newmarket Films/Wrekin Hill Entertainment]