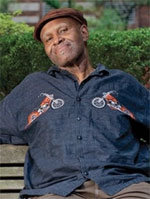 As regular readers might know, I tend to fall in the less populated "pro" camp when it comes to notoriously cranky New York Press critic Armond White — as much flak as he takes, from bloggers in particular, for his off-kilter tastes and occasionally aggressive writing style, I think he's one of a select few writers making readers evaluate criticism as an artform, while I frequently find fillets of perspicacity in his more impassioned arguments.
Dispensing with social niceties in creative print, however, is more endearing than doing the same in person — particularly when you're representing not just yourself, but a group of professional peers.
This Gawker report on White's acid-tongued emceeing of last night's New York Film Critics' Circle awards dinner is too stingy with details and heavy on relayed quotes to pass judgment on, but on what's supposed to be a celebratory communal evening, perhaps backhanded insults to winners and guests alike can wait for one evening. (UPDATE: NYFCC member Lisa Schwarzbaum says as much in her displeased writeup of the proceedings.)
White has knocked his group's choices before, so sniping about "The Social Network"'s Best Picture win is pretty much par for the course. One hopes, however, that this snippy exchange with Michelle Williams (there to present an award, so effectively doing the NYFCC a good turn) was more playful than the on-paper transcript:
He insulted Michelle Williams by introducing her with praise for her role in 2004's Land of Plenty, which got mixed reviews. "I made that movie almost 10 years ago," Williams said from the stage, according to people who were there. "I can't imagine what you've said about me since then if you had to go back that far to say something nice."
Plenty of room for tonal misinterpretation there. And hey, perhaps White just really loves her in "Land of Plenty." (It's a fine performance, after all.) I sense Gawker might be protesting too much here — and their report of a teary-eyed peace plea by Best Actress winner Annette Bening isn't particularly damning evidence with no actual quotes to go on. (Tears at an awards ceremony? Who would have thought?)
Still, who doesn't want to see video of this? YouTube, the floor is yours.
[Image: New York Press]