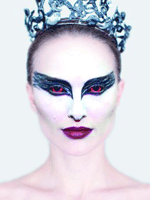 How badly do you want to own the shooting scripts of four of this year's hottest Oscar contenders?  Well, HOW BADLY?
We've got copies of "Black Swan," "Inception," "127 Hours" and "Toy Story 3" to give away this week.  I should have saved that "tell me a story" thing for this, so instead, to riff on the Haiku contest, I thought I'd just be completely ridiculous and introduce a — wait for it — LIMERICK CONTEST!
That's right, a limerick contest.  In case you're unaware of the qualities of a limerick, refresh yourself here.  In a nutshell, though, five lines with an aabba rhyme scheme.  For example:
There once was a guy with a blog
Who felt it a daily slog
But oh what fun
To almost be done
With a season that's become a fog
Got it?  Great.  Now, for these, much like with the story contest, you have to include story elements from each of the four films above.  But it doesn't have to be specific characters, just situations and things like that,  Have fun with the flavor.  Remember who won the story contest, after all.
Now…go!