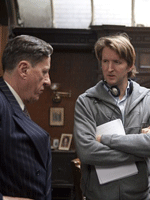 And it is as it should have been expected.  The question now is, will it match Oscar's five 100%?
It's worth noting that "True Grit" is a late bloomer and the DGA have had ballots since late November.  If they went in early, and seeing as you can't send screeners to the membership, it's possible a number of voters didn't see it before submitting.  But these are a strong five and I don't know who would drop out.
The instinct for some is Tom Hooper, but there's no reason to think that would happen, honestly.  It's doing just fine.  David O. Russell is the one a lot of people didn't expect to see here, so that might be a decent call.  But his nomination today should be enough to dispel the notion that a shaky industry rep would keep him out of the game this season.  Or is it?
Whatever the case, I simply have to stop underestimating "Black Swan." It's my favorite film in the hunt, yet I've been surprised by the willingness to embrace it at every turn.  Anyway, check out the DGA nominees at The Circuit.
[Photo: The Weinstein Company]