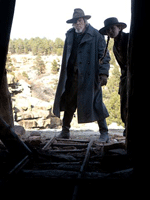 Now that the DGA has spoken, something to pass the time.  Tomorrow the crafts guilds continue to roll out the season as the American Society of Cinematographers (ASC) offers its picks for the best work behind the camera in 2010.  This is perhaps my favorite of the below-the-line categories, so I thought I'd offer up a lengthy preview.
The Society is usually good for 80% when it comes to Academy crossover with its nominees. Sometimes you get a 5/5, sometimes a 3/5, but generally it's 4/5. The trick is figuring out what the oddball selection will be. But let's see what's looking good for a nod, first.
Leading the way this time around, like most years, would have to be Roger Deakins. His work on "True Grit" will likely win him an Oscar and the road there could very well begin with a win from the Society. He seems to be papa bear these days. Chalk it up.
Next up would have to be wunderkind Wally Pfister. He's been on a roll as of late, earning Oscar nominations for his last three shots on goal. The ASC did not, however, nominate him for "The Prestige," but that probably isn't indicative of much. "Inception" should be seen as a safe bet here.
Matthew Libatique gave an identity to "Black Swan" that is undeniable. The Super 16 format made for a gritty quality that I personally have issues with, but the composition and lighting is all top notch and I can only imagine his colleagues feel the same way. I'm a bit ambivalent to consider this in the same breath as the front-running contenders this year, but I'm anticipating a nomination nevertheless.
Then there's Robert Richardson. I've had him chalked up as a predicted nominee since the first set of 2010 guesses hit the sidebar, and I have little reason to doubt him now. "Shutter Island" is doing well with the craft guilds so far and lensers will understand what's going on stylistically in this film even if prickly critics don't. Plus, the ASC has seen fit to nominate Richardson even when the Academy's cinematography branch has not ("A Few Good Men," "Heaven & Earth," "The Horse Whisperer"). So I think he's a decent bet.
So what gets the fifth spot? Let's ponder…
The ASC tends to show an affinity for digital work more so than the Academy's cinematography branch. Examples of nominees that missed with Oscar recognition are "Collateral" and "Apocalypto." That may have changed for good in 2008 when "The Curious Case of Benjamin Button" made it in. And Enrique Chediak and Anthony Dod Mantle's work on "127 Hours" has been universally praised this year, with most expecting an Oscar nod, so I'd be tempted to lean that way. But it's tough to think things will match Oscar 100% here, and those five are what I'm predicting at the moment.
Speaking of digital, things could be looking up for Jeff Cronweth, who bathed "The Social Network" in somber but beautifully rendered tones. The film is doing well on the crafts guild circuit so a nomination here would not surprise me in the slightest. And let's not forget he's a second-generation lenser, being the son of "Blade Runner" and "Altered States" DP Jordan Cronenweth.
I think it would be worth it to keep an eye on the well-respected Robert Elswit. "The Town" has been knocking down guild citation after guild citation, so the lensers following suit wouldn't be a shock.
Another film that could further reflect broad approval with a nod here is "The King's Speech." Danny Cohen is a bit of an outsider, but many love the unexpected visual quality of this film. That said, a great many were rubbed wrong by that look.
Russell Boyd has only one Oscar nod and one ASC nod to his credit, despite a distinguished career. Both were for the same film: "Master and Commander: The Far Side of the World." And "The Way Back" will be a considerably steeper climb. I still wonder if guild members have even had a chance to see it yet.
Some might be quick to spring for "Harry Potter and the Deathly Hallows: Part 1," but let's face facts. Last year's installment was the first of the franchise to receive an Oscar nomination, and no film from the series has been cited by the Society to date. Nor has Eduardo Serra, for that matter.
The only other possibility that seems intriguing is Hoyte Van Hoytema's lensing of "The Fighter," if only for bringing in the interesting early-90s television look for fight scenes. Plus, it could indicate overall approval of the film.
Alright, enough hedging. I'm on the record, but I think I'll (probably unwisely) stick with the five I'm predicting for Oscar, so:
"Black Swan" (Matthew Libatique)
"Inception" (Wally Pfister)
"127 Hours" (Enrique Chediak, Anthony Dod Mantle)
"Shutter Island" (Robert Richardson)
"True Grit" (Roger Deakins)
With Cronenweth as a potential spoiler for Richardson. What about you?
[Photo: Paramount Pictures]