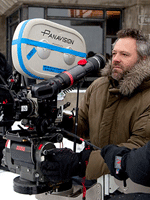 Well, I was expecting this to drop tomorrow, but the ASC nominees have been announced (catch them at The Circuit), and there are a couple of surprises.
Okay, well, Jeff Cronenweth getting in for "The Social Network" isn't a complete surprise, as I mentioned this morning we should watch out for him here.  But Danny Cohen making the cut for "The King's Speech," despite the fact that the film has an intriguing visual quality, is a bit unexpected.
The rest is as we would have thought, though Robert Richardson missing is less of a shock than Enrique Chediak and Anthony Dod Mantle getting the shaft.  I think Cohen gets bumped in favor of something else, though.
Though maybe Cronenweth is in a precarious position, seeing as the ASC is quicker to nominate digital work than the Academy.  The rest, I should think, are solid.
Or maybe we shouldn't bank on anyone missing and we'll just get 5/5?  It's rare, but it's happened.  What do you think?
Again, check out the full list of nominees at The Circuit.  And I've updated the category's Contender page (updating as the guilds announce, actually, so keep checking those links).  Later this week, the American Cinema Editors (ACE) will speak up.
[Photo: Warner Bros. Pictures]