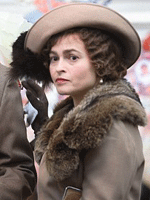 In last week's episode of Oscar Talk, one reader cheekily asked Anne and Kris which probable nominee they would most like to see out of the running. After much hemming and hawing, Anne landed upon Melissa Leo, while Kris stumped for (or against, rather) Annette Bening.
While I'd co-sign neither of those choices, it's just as well Kris didn't choose that evening to cold-call me on the podcast, since I could easily have whined for hours on end about other contenders — and Helena Bonham Carter, widely seen as a shoo-in for her turn as the eventual Queen Mother in "The King's Speech," would have topped the list.
An inoffensive wallpaper performance to some, it struck me as distractingly twitchy, mannered work against the crisp, unfussy teamwork of leads Colin Firth and Geoffrey Rush.
That Carter, a wonderful actress, has given far more striking performances that registered not a flicker of awards buzz makes her coast through the precursors this year all the more vexing to me. But it's comforting to know that I'm not the only one scratching my head. In this Variety piece on the British actors in the Oscar race (one that curiously lumps Geoffrey Rush in with the limeys), the actress herself seems to think the awards attention is misplaced:
I thought it was a boys' film … Sometimes you get nominated for the wrong things. I'm not knocking it, because I want the good roles, so if it helps me get another really good part, that's great. For that moment, when you're nominated, you get offered parts you wouldn't otherwise be offered. After 'Wings of a Dove' [sic], I got 'Fight Club.' When you are up for awards, they remember you're still alive.
True words, all of them. Carter at least can take comfort in the fact that she has been nominated for her best screen work, as the cool sexual strategist of "The Wings of the Dove" — unlike, say, a Christopher Plummer, whose long Oscar drought ended last year with a nod for distinctly sub-par work. And she's right that, when push comes to shove, a nomination means more in the long term than it does in the weeks leading up to Oscar night: if recognition for "The King's Speech" means another "Fight Club" is around the corner for the actress, I guess I'll make my peace with it.
Anyway, nice to see an actor so indifferent to the politics of the season that she doesn't mind taking her own campaign down a peg. Can we still be friends, Helena?
[Photo: The Weinstein Company]