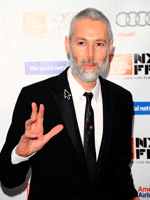 Lost in all the general Oscar discussion as of late is some great news on two fronts.
You might recall Oscilloscope higher-up and Beastie Boy rapper Adam "MCA" Yauch was diagnosed with cancer in his salivary gland a year and a half ago.  Recently it was falsely reported that he was cancer-free, but he has come out to clear the record but also assure everyone he's hopeful in the wake of the lump's removal.
Meanwhile, Michael Douglas, who was hit with throat cancer some months back, says his tumor is gone and he's on the road to recovery.
Neither is out of the woods yet, obviously, but it's great to hear that things are moving in a positive direction.  We certainly wish Yauch and Douglas a speedy recovery.
[Photo: Getty Images]