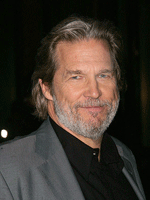 Greg Ellwood has done a pretty solid job of summing up Saturday night's event at The Paley Center in Beverly Hills.  The evening featured the debut of "Jeff Bridges: The Dude Abides," a new installment in PBS's "American Masters" documentary series, directed by Gail Levin.
The film is incredibly in-depth.  By the time the credits roll, even if you think you know most everything there is to know about the actor (seeing as his "Crazy Heart" push last year turned over just about every stone), you walk away feeling like part of the family.
The 90-minute film includes interviews from Bridges's brother and sister, Beau and Lucinda, filmmakers Peter Bogdanovich and Terry Gilliam, actors John Goodman and Cybil Shepherd and many more.  It digs in on his peripheral art (painting, pottery, music, etc.) and basically just keys you in to what makes the guy tick.
Much of it is centered on the fact that Bridges is a bit of a lazy guy (he freely admits it) and that it takes a lot for him to make a decision.  But it's bent wonderfully into a thesis on his personality.  What would normally be a trite "life is a journey" message comes across in more profound strokes.
The post-screening Q&A was packed with the usual, but most interesting to me was when Bridges noted, pretty much immediately, how a comment from Bogdanovich ruffled his feathers a bit.  In the film, Bogdanovich says he thinks Bridges held back on going the different ways he could have gone in his career while his father, Lloyd, was alive.  He felt the actor didn't want to eclipse his father too much, but Bridges made sure he cleared the record right off the bat by saying he never felt that way.  It read as false coming from Bogdanovich, to tell you the truth, so I wondered if Bridges would have something to say about it.
Also during the Q&A, Bridges was asked if he ever revisits his work.  He said it's rare for him to do so, but "The Big Lebowski" is kind of like "The Godfather" for him.  If he's flipping channels and stumbles across it, he'll decide to watch a few scenes.  "Oh, maybe I'll just watch it until Turturro licks the ball," etc.  Before long he'll end up just watching the whole thing.  "I'm biased," he said, "but man that's a good movie.  Those guys know how to make good movies!"
Those who turned out for the event included writer/director Scott Cooper, actor Ed Harris and his wife Amy Madigan, "True Grit" starlet Hailee Steinfeld and musician T Bone Burnett.  I asked Cooper to offer up a few thoughts on the evening and the screening.  Here's what he had to say:
Pauline Kael once said about Jeff: "He's the least self-conscious screen actor who ever lived." Now that I've grown close to Jeff and have a deep understanding of his inner life, I can say he's the least self-conscious man I've ever met. A true American master and renaissance man. If I could only work with Jeff as a collaborator for the rest of my career, my artistic life would grow richer each time out. And this film shows that I'm not the only one who feels that way. It's a great photo album of his life.
"Jeff Bridges: The Dude Abides" debuts Wednesday, January 12 at 8pm ET.  Head over to PBS for more info.
[Photo: Wikia.com]