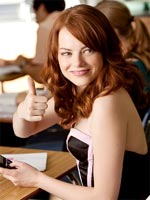 As you know, BAFTA likes to trickle out a few awards announcements ahead of their nominations, which will be revealed next Tuesday. Last week, we had the Best Foreign Language Film nominees and general category longlists — today, we have the five finalists for their Rising Star Award.
Perhaps the most unique category in a ceremony that otherwise follows the Oscar template with increasing devotion, this self-explanatory honor  is the only award BAFTA hands over to the voting public, though the shortlist is compiled by a panel of journos and industry insiders. (Before you cry foul at some relatively established names on the list, the award is not necessarily for newcomers, but for actors whose profile grew significantly in the past year.)
The public vote inevitably favors the star with the greatest youth appeal — last year saw Kristen Stewart beating Best Actress winner Carey Mulligan, while the year before, non-British viewers were left scratching their heads when Noel Clarke saw off Michaels Cera and Fassbender.
This year's shortlist poses a slightly less inevitable outcome, with none of the nominees boasting a core fanbase like the Twi-Hard crowd to render the competition void. It's an intelligently chosen bunch of nominees: cheers to the selectors for picking my personal actress of the year, Emma Stone, following her breakthrough turn in "Easy A," while the long-serving Tom Hardy's big-league arrival in "Inception" has been duly recognized.
Of the five, only Andrew Garfield will likely score himself a second BAFTA nod next week, though I'd bet on the win being fought out between the remaining two nominees with the biggest celebrity cache — with Bond-girl memories perhaps clinching it for Gemma Arterton (who was bizarrely named twice on last week's Best Actress longlist, to boot).
I think I'm a Hardy boy myself, but who gets your vote?
BAFTA Rising Star Award
Gemma Arterton
Andrew Garfield
Tom Hardy
Aaron Johnson
Emma Stone
[Photo: Screen Gems]