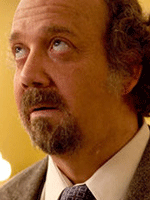 I've been noting for a while now that "Barney's Version" could be a sleeper in the Best Makeup category due to some impressive aging.  The film joins six others today as a bake-off finalist.  The only film missing that I'm currently predicting is "Shutter Island," so replace that with "The Way Back" (which I was predicting once upon a time), and that's my bet.
The finalists:
"Alice in Wonderland"
"Barney's Version"
"The Fighter"
"Jonah Hex"
"True Grit"
"The Way Back"
"The Wolfman"
Another potential sleeper is "The Fighter," buy the way.  The work on Melissa Leo is pretty impressive.  Keep up with the race at its dedicated page here.
[Photo: Sony Pictures Classics]