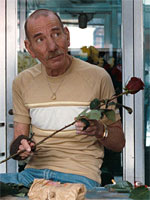 • The Producers' Guild of America surprised no one with their list of nominees.
• The Writers' Guild, however, threw a few curveballs (aided by assorted ineligibilities), while the USC Scripter Awards surprised some with one of their selections.
• In sadder news, we said goodbye to esteemed British character actor Pete Postlethwaite.
• After a few weeks of deliberation, Guy picked his best and worst films of 2010.
• Continuing this week's guild run, both the Cinema Audio Society and the Art Directors' Guild weighed in with their nominees.
• Speaking of techs, the Academy announced a rather tight bakeoff list for the eventual Best Visual Effects nominees.
• This week's Off the Carpet column suggested that, despite its precursor dominance, "The Social Network" is far from the only film in the race.
• As buzz for "True Grit" grows, we contemplated the category confusion around young Hailee Steinfeld — could she get promoted from supporting to lead? Scott Rudin spoke up in favor of a supporting campaign.
• The Steinfeld case was hotly debated by Anne and Kris, among other conversation points, in this week's episode of Oscar Talk.
• We caught up with "Another Year" star Lesley Manville. an actress arguably getting less than her due in this year's race.
• She is, however, one of the names highlighted in this year's BAFTA longlists — the Brit awards body also announced their five foreign-language nominees.
• Also on our interview docket: the somewhat unheralded craftsmen behind "The Social Network."
• We learned whose face will be greeting us bright and early on 25 January to announce the Oscar noms — her name is Mo'Nique.
• Our First-Half FYC series continued spotlighting award-worthy individuals from early 2010, this time in the Best Director category.
• Now in the home stretch, Chad's Life Without Oscar column selected two more outstanding titles that weren't on the Academy's radar.
• Looking past the Oscars, Robert De Niro was named the president of this year's Cannes Film Festival jury.
• We learned that James Franco, not content with a likely Best Actor nom and an Oscar hosting gig, is taking on Faulkner and McCarthy behind the camera.
• In box office news, "Little Fockers" held the top spot, but it's "True Grit" that continues to surprise.
[Photo: Warner Bros. Pictures]