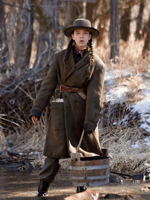 During last night's DVD release party for "The Social Network" I ended up in a spirited debate with producer Scott Rudin about the category placement of Hailee Steinfeld in "True Grit." Thankfully it went beyond ideas of the Hollywood star system and strategy and into the philosophy of the narrative itself.
Since it's been such a point of discussion as of late (most recently in a heated debate between yours truly and Anne Thompson in this week's Oscar Talk), I thought I'd pass along his reasoning for thinking the performance a supporting one.  I'm sure he wouldn't mind, so here goes…
In a nutshell, Rudin's argument (and it's the smartest one I've heard in favor of supporting placement yet), is the idea that the Mattie Ross character is really the impetus for change in Rooster Cogburn's character.  And, most importantly, she doesn't have an arc, Rudin says, while Cogburn does.  He changes, she doesn't.  So Mattie is the instigator.  It's an interesting point, but I'm still not buying it.
(SLIGHT SPOILERS AHEAD)
For starters, we begin the movie and end it with Mattie.  Rudin noted that that doesn't necessarily matter, and I would agree if not for the fact that "True Grit" is her story.  Think of those words: "true grit."  They're meant to describe Rooster Cogburn's ruthless Marshaling ways, but in reality, they define Mattie's stalwartness, perhaps more definitively.  To say nothing of the fact that without her and her situation, you wouldn't have a narrative.
To that, Rudin was quick to note examples like "Paper Moon" and "The Last Detail," that the protagonists of those films are the Ryan O'Neal and Jack Nicholson characters respectively.  No argument there, but Cogburn doesn't dovetail with those examples, in my opinion.  We get no closure for the character.  And, I'd argue, the arc isn't that substantial, either.  After all, from the moment Mattie crosses that river, he's endeared to her.  We see it in his eye when he pulls that sidearm on La Boeuf.  Sure he wavers in the midst of an alcoholic haze here and there, but I don't think he ever truly switches gears back.  So it's less of a journey of change for Rooster, I think.  The movie itself is very much about the natural course of things rather than dramatic change and growth.  It's about the elusiveness of the former, really.
I still think it's a lead performance through and through, but it was great to spar with Rudin on the matter.  He's a charming, brilliant guy and he clearly loves movies and what he does.  That's what I took away from the conversation most of all.
Anyone care to argue with the gentleman?  Have at it.
[Photo: Paramount Pictures]