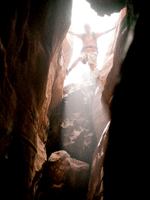 Brave new world.  Though we all know it's heading in this direction.  The trick will be getting the old stuck-in-their-ways types to learn how to work things, as always.  The press release, in part:
Fox Filmed Entertainment (FFE) and iTunes are offering nearly 100,000 Screen Actors Guild (SAG) members Fox Searchlight Pictures' 127 HOURS, BLACK SWAN and CONVICTION in HD from iTunes for viewing on their iPad, iPhone, iPod touch, Mac or PC, or with Apple TV on their HD TV. The films will be available to members from January 7-28 during the SAG awards consideration window…Fox is discussing a similar arrangement in the future with AMPAS, BAFTA and other organizations to implement this new way to present their films for consideration…

"…while we would always prefer voters see films in theaters, we realize that is not always possible, so we wanted to make sure as many voters as possible have the opportunity to screen them…," said Jim Gianopulos, Chairman and CEO of Fox Filmed Entertainment.
[Photo: Fox Searchlight Pictures]