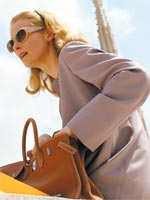 Along with my annual bewilderment as to the reasoning for BAFTA's longlist announcement, I've never really got why they announce their Best Foreign Language Film nominations separately, 11 days ahead of the other categories. To me, it seems merely an additional way to marginalize an already marginalized category, but what else is new?
The official line, I believe, is that the head start gives voters extra time to catch up with the nominated films, but when their selections are as obvious and ubiquitous as the five films listed after the jump, is that really necessary? I mean, who isn't aware of "I Am Love" or "The Girl With the Dragon Tattoo" by now?
The continued appearance of the latter film — a sloppy potboiler that may have made bank, but has no business beating, say, "Uncle Boonmee Who Can Recall His Past Lives" to a nod — in this category has been one of my biggest bugbears of the season, by the way. (Moreover, its grim appearance on BAFTA's Best Film longlist, where it is the only foreign-language title to place, suggests it'll probably win this race in a walk.)
At least the Academy, whatever other foreign-language errors they commit, can't fall victim to this laziness. Anyway, check out BAFTA's choices below.
Best Foreign Language Film
"Biutiful"
"The Girl With the Dragon Tattoo"
"I Am Love"
"Of Gods and Men"
"The Secret in Their Eyes"
[Photo: Magnolia Pictures]