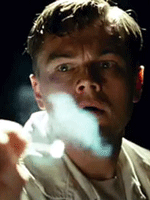 The immediately striking thing about this year's slate of nominees from the Cinema Audio Society (which honors sound mixing) is the appearance of "Shutter Island." This is the film's second below-the-line guild citation in as many days (following an Art Directors Guild nomination yesterday).
If it had managed a PGA nomination earlier this week, I'd be saying, "Watch out."  But the crafts are what were going to help this film along, if anything.  Just remember, there's a 10th Best Picture slot somewhat up for grabs and there is always the "steak eaters" theory (however overstressed) to consider.  People in the industry do like the film, though maybe for its parts more than their sum.
The second thing that's striking is "The Social Network" making it in.  Though that shouldn't be too unexpected.  It's an amazing mix from veteran craftsmen.  But could this be the "Finding Neverland" or "Babel" of this year's slate?  It's possible.  (Check back later this morning for more on that as today's Tech Support interview includes sound mixers Ren Klyce and Michael Semanick.)
The other three nominees were less surprising, but I'm really happy the quality work on "Black Swan" made it in.  I've always been blown away by the sonic environment of that film, and the effects editing, as well.  (This was discussed at length in a recent SoundWorks Collection profile.)  I've been thinking for some time that the balance of those elements could draw goodwill.
The most stunning snub, if you ask me, is "TRON Legacy." I thought that was a killer mix and a lot of key players were involved on it up at Skywalker Sound.  But we're in a time of nuance appreciation in this field, so maybe they felt like it blew the speakers off the wall or something.  Still, to snub that in favor of the (however expected) tip of the hat to the somewhat muffled "Inception?" Bah.
The other nominee I'm predicting for Oscar which missed was "Unstoppable." I would still keep it in mind, though.  There's a lot of respect for that work out there and Fox has a concentrated below-the-line campaign going for it, so it could surprise a la "Wanted" two years back.
Anyway, have a look at the CAS nominees for yourself over at The Circuit.
[Photo: Paramount Pictures]