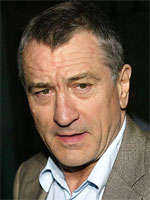 Sure, that Cecil B. DeMille Award at the upcoming Golden Globes is nice enough, but this is the greater honour. Robert De Niro has been selected as the president of the competition jury at this year's Cannes Film Festival in May — the third time this most European of festivals has tapped an American for the job in four years. (Tim Burton did the honors last year, Sean Penn in 2008.)
For the past two years, the eventual Palme d'Or winner has seemingly, if not necessarily, borne the fingerprints of the jury president. Isabelle Huppert handed the prize to her friend and collaborator Michael Haneke in 2009 (and took a lot less stick for it than Quentin Tarantino did for rewarding his ex at Venice last year).
Burton's reign, meanwhile, culminated in the unusual occurrence of a fantasy film ("Uncle Boonmee Who Can Recall His Past Lives") taking the gold. De Niro somehow seems likely to wield a less assertive stamp on the proceedings, though you never know until the post-fest gossip starts leaking out.
The man's pro forma statement reads:
The Cannes Film Festival is a rare opportunity for me as it is one of the oldest and one of the best in the world. As co-founder of the Tribeca Film Festival and the Doha Tribeca Film Festival I have an increased appreciation for the jury, who serve, undertaking an important role in choosing films that are represented in the world of film at its highest level, and these types of festivals help connect the international film community and have a lasting cultural impact. Having served as President of the Jury in the eighties twice, I know this isn't an easy task for me or my fellow jury members, but I'm very honored and happy to head the jury for this year's Cannes Film Festival.
De Niro has some form at Cannes: he's never actually won an award there himself, but he has starred in a pair of Palme d'Or winners over the years. (Bragging rights to the first reader to name them correctly.) Anyway, it's a suitably starry choice for what will likely be a flashier festival than 2010's comparatively low-key event, with Terrence Malick, Pedro Almodovar, Lars von Trier and Wong Kar-wai all expected to beef up the big-ticket auteur quotient. Can't wait, myself.