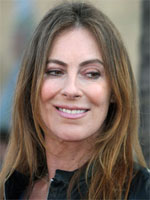 Given that it's currently fighting tooth and nail for a place in the Academy's tight Best Picture lineup, scrappy fringe darling "Winter's Bone" could use some high-profile cheerleaders as we head into the home stretch of voting. And as Steve Pond reports, it just got one, in the shape of reigning Best Picture and Director winner (and member of the Academy's Board of Governors) Kathryn Bigelow.
Bigelow, who has some idea how it feels to be the indie spoiler in the race, recently hosted two private screenings of the film — though she has no personal connection to it or to director Debra Granik. (This makes it slightly different to Julia Roberts' recent Academy-targeted reception for former co-star Javier Bardem.) Speaking to The Wrap, she waxes lyrical on the film:
I just think it's a masterful film that deserves exposure – and if I can do anything to help it out, I'm happy to do it … I was fascinated to meet [Debra Granik], because the film is so perfectly crafted. The performances are extraordinary, Jennifer Lawrence is a star turn. And it's got this prescient knowing, this confidence you feel watching a film that's haunting and provocative. It's just a magnificent film.
Of course, people will inevitably pick up on the resonance of Bigelow championing a film by a fellow female filmmaker — though it's worth remembering she was reluctant to play the gender card throughout her 2009 awards campaign, so clearly she's supporting a film rather than a cause. Moreover, it's interesting to see her lending a hand to a film so different from her own work in form and texture. Here's hoping Bigelow's many admiring Academy peers are listening.
[Photo: Slate]