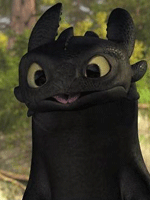 First a big thank you to everyone who participated in Monday's "How to Train Your Dragon" haiku contest. Moving right along here on clearing out my office of the season's swag!
There were a number of great entries, but I ultimately settled on Rob T.'s eloquent stab:
Human and dragon–
Pray tell, who is the trainer
And who is the trained?
However, I also had a soft spot in my heart for what forts cooked up, so I totally have to cough up a consolation prize for that one…
*Hiccup* excuse me
Could someone scare me? *Hiccup*
Oh my god! DRAGON!
Brilliant.
If the two of you could drop me a line with the best mailing address, I'll get your goodies in the mail. More contests to come…
[Photo: DreamWorks Animation]