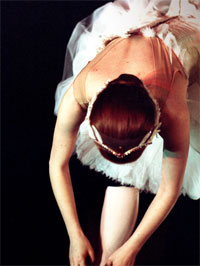 What kind of year was 2010 at the movies? You tell me. It's virtually impossible to find one yardstick to measure 365 days of cinema for a collective audience whose interests seem ever more segregated.
If your film interests are covered largely by the multiplex, chances are 2010 was an unusually unrewarding year for you, challenging even Hollywood's standard quota of déjà vu — unless, of course, you're an animation fiend, in which case there was a broad enough range of carefully crafted work to keep you happy.
If you tend to bypass the mall on your way to the arthouse, however, there was any amount of adventurous indie and world cinema, both newly unveiled and backlogged from previous years, to chew on — if, of course, you're privileged enough to live in a regrettably narrow radius. And if you're an Academy voter sifting through the crop of generously campaigned prestige fare, 2010 looks rather like the usual, only a little more so.
For me, 2010 was both immeasurably improved and somewhat complicated by the festival circuit — access to which is a luxury I shall never take for granted, but also one that inevitably skews my sense of how the film yearbook reads in the real world. When you've had access to most of the big-ticket winter warmers by early autumn, and when the likes of Cannes afford you a head start of many months or even years on certain international art films, things rather lose their shape.
All of which is a long way of saying that the following list is built on uneven foundations. As I don't live in the US, sticking to that release calendar shoots me in the foot when I encounter films that are either very old news (take "Secret Sunshine," released just weeks ago Stateside, but which I clapped eyes on in 2007) or still awaiting a UK bow.
In the end, the best my list can do is reflect my own filmgoer's diary for 2010, of which festivals were such a significant part it seems silly to factor them out. Why wait 18 months or more to recognize films that are on my mind right now? My 2009 list included several titles ("White Material," "Fish Tank," "Dogtooth") that are regular fixtures in the current spate of year-end collectives — in the end, it all comes out in the wash.
So, yes, there are some picks here you'll have to wait for. I like to think they're worth it, and in the case of a couple awaiting distribution, I can only hope the wait is a short one. (For the sake of parity, a list of the year's top 10 US releases is included afterwards.) To each his own cinema, goes the phrase: in 2010, this was mine.
—————————————-
As usual, let's kick things off with a few honorable mentions, to make up a mathematically pleasing 25 films. (Pedants will no doubt point out, at the end of the list, that it actually adds up to 26. But I'm way ahead of you — I started 2010 as a 26 year-old, see, so of course this number was a symbolic target.) Not entirely a "next-best" list per se, but in terms of viewing experience, this handful of titles stayed nearer my heart than others. Since I spent so much of the year discussing films in the 140-character format, I'll do these Twitter-style: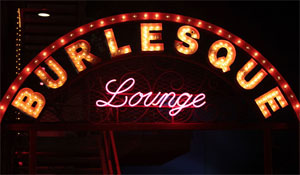 "BLUE VALENTINE"
Two peak-form stars and an elegant shuffle structure make raw wounds out of familiar domestic politics. Don't see it with someone you love.
"BURLESQUE"
Dry-humping a lamppost at the corner of Tat and Treasure, with a sincere sense of pride in its performance that many loftier musicals could use.
"EASY A"
Pleasingly probing teen comedy loses the courage of its convictions, but I couldn't omit the vehicle carrying the year's most beguiling lead turn.
"EXIT THROUGH THE GIFT SHOP"
Banksy's shapeshifting study of artistic banditry was the supplest and most penetrating of 2010's rich run of are-they-or-aren't-they docs.
"HOW I ENDED THIS SUMMER"
Sweeping environmental detail blows up an intimate two-headed study of fraternal dependence and distrust into something well-nigh operatic.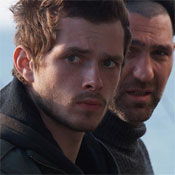 "THE KIDS ARE ALL RIGHT"
Lisa Cholodenko's sexy, sun-kissed, spryly performed comedy smartly makes its case for alternative family structures by making none at all.
"LOVE LIKE POISON"
In her startlingly controlled debut, Katell Quillévéré charts the thrills and fears of teenage sexuality with an unfailingly gentle hand.
"MONSTERS"
Director-writer-DP-designer-FX-artist Gareth Edward's labor would be laudable even if his trim sci-fi debut weren't this gutsy and lyrical.
"THE MOUTH OF THE WOLF"
The best documentary I saw in 2010: a freeform ramble through Genoa's dank alleys, affording its subjects the time to tell their own stories.
"MYSTERIES OF LISBON"
All but gold-plated in its visual wealth, and leaking more narratives than I can count, Raul Ruiz's latest is a sustained 272-minute swoon.
"RABBIT HOLE"
Okay, it rendered a script I wrote redundant. But this thistly domestic drama, elevated by Nicole Kidman in fifth gear, defeated my grudge.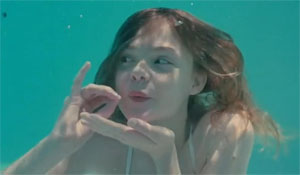 "SOMEWHERE"
Sofia Coppola audaciously revisits the template of her greatest success, rerouting relationships and taking brave liberties with scene shaping.
"THE TEMPTATION OF ST. TONY"
Undressing policemen, gimp cabaret, Cannibalism on Ice… Veiko Õunpuu's dazzling absurdist comedy had something (or nothing) for everyone.
"THE TOWN"
In a pretty joyless year for studio slam-bang entertainment, Ben Affleck and his choice ensemble kept it simple without skimping on effort.
"WINTER'S BONE"
The performances — and what performances — got the lion's share of the praise, but Debra Granik's clammy atmospherics take first billing.
("How I Ended This Summer" will be released in the US through Film Movement, and is awaiting a release date. "Love Like Poison," "The Mouth of the Wolf" and "Mysteries of Lisbon" are still seeking US distribution.)
—————————————
Foreplay out the way, then, I give you my, uh, 11 best films of 2010:
#10
"AU REVOIR, TAIPEI"
Directed by Arvin Chen
"COLD WEATHER"
Directed by Aaron Katz
I know, I know: starting the list with a tie is something of a copout. But when faced with choosing between two independents from twentysomething filmmakers — one that will have to fight for an audience in February and another that doesn't even have US distribution yet — booting one out felt akin to kicking a puppy in the face. Plus, the two films make total sense as a double-bill, both of them playful, youthful riffs on the mystery genre: where Chen's frisky, jewel-toned romantic caper comedy prompts thoughts of Stanley Donen dancing with Wong Kar-wai, Katz quietly clothes the ghosts of Raymond Chandler and Arthur Conan Doyle in dirty jeans and doleful wit. ("Cold Weather" will be released in the US through IFC Films on 4 February.) (Longer reviews here and here.)
#9

"EVERYONE ELSE"
Directed by Maren Ade
After months of waiting in vain for some enterprising British distributor to allow me a big-screen introduction to Ade's critically massaged relationship drama, I finally lost patience and met the film on my laptop last week. It was an imperfect way to view a work whose aggressive sense of intimacy, like warm breath on the back of your neck, must be even more discomfiting in a darkened theatre, but the ruthless precision of this ostensibly simple breakup anatomy hits home on any format: Ade's unfussy grasp of the central couple's unspoken narrative suggests many critics' Cassavetes comparisons weren't idle ones, while stars Birgit Minichmayr and Lars Eidinger tackle uglier tensions head-on.
#8

"ANOTHER YEAR"
Directed by Mike Leigh
Like the builders' tea his characters glug by the mugful, Mike Leigh's films tend to be slow-brew affairs with me: in 2008, "Happy-Go-Lucky" went from a three-star appreciation in spring to a #6 year-end placing. His latest started on a higher rung, but still ascended: early concerns about an overly pat single-couple divide gradually evaporated, as savage supporting turns from Imelda Staunton and David Bradley tie knots in what might seem a placid endorsement of marriage. Push-pull auteur that he is, Leigh revisits his last film's concern with the invention of happiness, but to chillier, more insistent enquiring effect — and finally hands the spotlight, one both generous and punishing, to his longest-serving company player, Lesley Manville. (Full review here.)
#7

"CARLOS"
Directed by Olivier Assayas
"It's not a biopic, not at all," insisted Assayas in our recent interview (still coming on the site, when my hard drive deigns to release the transcript), and one couldn't ask for a more welcome attitude from a director taking on a study of one of recent history's most unknowable political figures. Raging, rumbustious and feeling scarcely a quarter of its imposing 330-minute running time (the shorter cut is a thoughtful but unnecessary gesture), Assayas's epic daringly proves that a dense character study can be constructed as much from incident as from psychology, as it rattles from one electric set-piece to the next with all the letup of a Bourne thriller: its feet may be in TV, but its head is in the cinema. (Longer review here.)
#6

"POST MORTEM"
Directed by Pablo Larraín
Without any Venice awards to egg on nervous buyers, Chilean writer-director Larraín's cold sweat of a follow-up to 2008's minor critical hit "Tony Manero" looks likely to languish in distribution limbo for some time. That'd be a shame, but also a badge of honor for a probing and profoundly upsetting piece of political filmmaking: the film shares its predecessor's off-balance milieu of Chile's early-1970s military coup, as well as its bone-dry humor, but broadens both its personal and historical scope to accommodate black-hearted romance and brazen what-if manipulation of actual events. Larraín's formal abilities have taken a quantum leap, too: ingenious framing and sound-design culminate in a breathtaking 8-minute closing shot that finally makes a horror film of this dangerous one-off. (Longer review here.)
#5

"BLACK SWAN"
Directed by Darren Aronofsky
Aronofsky's glassily enchanting psychological fairytale faced a pretty tough brief at its early-morning Venice press screening: not only did it have to live up to expectations amplified by an alluring trailer, but it had to make me forget my blind (and ultimately unfounded) panic that I'd lost my passport. Both tests were easily passed, as well as others we didn't know were on the line: Aronofsky's gleeful folding of trash-film glitter into his independent sensibility, and Natalie Portman's graduation, before our very eyes, from promising ingénue to self-possessed star. A sister to "The Wrestler" in its evaluation of the rigors and addictions of performance, clad in lace to its predecessor's leather, and exciting proof of its director's growing textural dexterity. (Full review here.)
#4

"THE FIGHTER"
Directed by David O. Russell
In retrospect, it's hard to believe how low my hopes were pegged here: somehow, my instincts told me this was Russell's "one for them," his submission to studio formula as atonement for past professional sins. Happily, my instincts were wrong. Bolshily rousing where most sports dramas settle for being politely inspiring, this proves every inch A David O. Russell Film, spilling messy trails of language and rowdy life at the edges even as it makes unvarnished grabs for audience affection. Produced outside the studio system and then reeled back in by Paramount, the film solders an indie's sense of domestic specificity and ensemble togetherness onto a noisier mainstream storytelling arc, and winds up winning both weight classes.
#3

"CERTIFIED COPY"
Directed by Abbas Kiarostami
It's always tricky to watch a film one has been eagerly awaiting for years on end, not least in the unforgiving environs of the Cannes Palais – when you're that desperate to love something, it can be hard to tell if you're watching a film or a mirage. Five minutes into Kiarostami's rapturous voyage to Italy, however, I was disarmed to discover the film wants to be a mirage: as Juliette Binoche and William Shimell idle away a honey-colored afternoon in Tuscany, the audience is feverishly deliberating whether we're watching an languid brief-encounter romance, a harsh cross-section of a failed marriage or, somehow, both. A conversation piece, certainly, but loose, funny and humane with it, magnetized by La Binoche's serene, origami-intricate star turn. ("Certified Copy" will be released in the US through IFC Films on 11 March.) (Longer review here.)
#2

"MEEK'S CUTOFF"
Directed by Kelly Reichardt
"So, Venice got the new Malick film after all," I tweeted immediately after emerging from the first screening of Reichardt's austerely exquisite Oregon Trail western. I was teasing, of course, but even my devotion to Reichardt's shoestring 2008 drifter study "Wendy and Lucy" hadn't prepared me for the immense formal advances on display in this lean road movie without a road. Reichardt and cinematographer Christopher Blauvelt scrutinize their severe, forgotten landscape like regionalist painters, conjuring narrative out of light, land and sky. In a film so burdened with physical beauty, the human thread could be neglected, but Reichardt is equally attentive to the minute, ambiguous gestures of trust and fear that alternately propel and misdirect her wanderers. ("Meek's Cutoff" will be released in the US through Oscilloscope Pictures on 8 April.) (Longer review here.)
#1

"THE ILLUSIONIST"
Directed by Sylvain Chomet
Sylvain Chomet's blissful across-the-decades collaboration with Jacques Tati is, I'll confess, a film I saw the morning after the night before: with my birthday falling in the middle of the Berlin Film Festival, drinking ran well into the A.M., with little regard for the one-off breakfast screening just a few hours away. With its airy narrative and moving-watercolor visual splendor, "The Illusionist" first proved a gentle hangover cure, before growing into something rather more precious: a near-wordless essay on aging, placelessness and companionship, leavened by the unmistakeable watermark of Tati's wry observational comedy. Subsequent viewings reduce me to the same soggy puddle of tears each time. His Hulot-inspired protagonist may be a mere sleight-of-hand artist, but Chomet's working with rarer magic here. (Longer review here.)
—————————————-
So there you have it. My number one probably won't come as a surprise to my regular readers, but kudos to Chomet for hanging doggedly on to my top spot from the dark days of February onwards. Apologies if the inclusion of unreleased festival titles irks some readers, but in the January chill, it can't hurt to give you something to look forward to.
To recap, my top 11 films of 2010:
1. "The Illusionist"
2. "Meek's Cutoff"
3. "Certified Copy"
4. "The Fighter"
5. "Black Swan"
6. "Post Mortem"
7. "Carlos"
8. "Another Year"
9. "Everyone Else"
10. (tied) "Au Revoir, Taipei" and "Cold Weather"
And, just to please everyone, the top 10 U.S. releases of 2010. (EDIT: "Dogtooth"'s 2010 release totally slipped my mind here, so in it goes. And because I haven't the heart to delete "The Portuguese Nun" — a film that needs every bit of attention it can get — we wind up with a First XI to match the above list. Neat, huh?)
1. "White Material"
2. "The Illusionist"
3. "Fish Tank"
4. "A Prophet"
5. "The Fighter"
6. "Black Swan"
7. "Dogtooth"
8. "Carlos"
9. "Another Year"
10. "Everyone Else"
11. "The Portuguese Nun"
That just leaves one thing. Last year, high on eggnog and holiday spirit, I generously dispensed with a "Worst of the Year" list, only to receive complaints from several friends and readers. Having delayed this year's list to January, however, the Christmas cheer has worn off, and I'm back to my usual crabby self. So it's back, with the usual disclaimer that until someone pays me to review the likes of "Cats and Dogs 2: The Revenge of Kitty Galore," I'm certainly not going to see them.
With that, these are the 10 worst films I saw in 2010. (I'm not going to waste any words on blurbs — they certainly don't merit the effort.)
1. "Chatroom"
2. "Knight and Day"
3. "The Tempest"
4. "Nightwatching"
5. "Alice in Wonderland"
6. "The Extra Man"
7. "A Sad Trumpet Ballad"
8. "Aftershock"
9. "Kick-Ass"
10. "Burnt by the Sun 2: Havana Nights"
And that, patient readers, is the year that was. From where I was sitting, anyway. Fingers crossed for 2011 to offer up its own share of delights — and while those in the know claim the outlook is decidedly grim, at least a couple of titles on this list say otherwise. Happy moviegoing, everyone.
[Photos: Fox Searchlight, Screen Gems, Film Movement, Focus Features, IFC Films, The Cinema Guild, Sony Pictures Classics, Paramount Pictures and Oscilloscope Pictures]