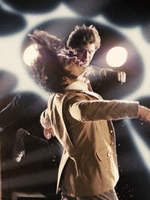 As we await the USC Scripter finalists (which should drop any minute), I should pass along the Academy's bake-off finalists in the Best Visual Effects category.
Last month the field was narrowed down to 15 titles. Today, seven titles remain, from which five nominees will be selected in a bake-off (which is an odd extra step now, given that the ultimate nominations field was expanded to five this year). So take two off of the following list:
"Alice in Wonderland"
"Harry Potter and the Deathly Hallows: Part 1"
"Hereafter"
"Inception"
"Iron Man 2"
"Scott Pilgrim vs. the World"
"TRON Legacy"
And the two I expect to be omitted are "Scott Pilgrim vs. the World" (kudos for making it this far) and "Hereafter" (which is honestly a sleeper here), leaving the same five I've been predicting for months now.
The bake-off will feature a 15 minute screening of footage from each film, followed by a Q&A session.
Meanwhile, the Visual Effects Society will announce its list of nominees Monday, which could help to make some sense of where things are going int his category.
[Photo: Universal Pictures]