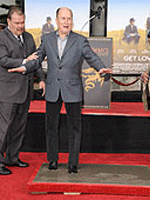 Sony Pictures Classics was smart enough to recognize that Robert Duvall could use his hands and feet in cement over at Grauman's Chinese Theatre, a generally political honor (much like stars on the Hollywood Walk of Fame) that only happens when someone thinks it's worth it to rally the money together.
Well, a bubble-contending Best Actor hopeful (for "Get Low") is a great cause.  But that shouldn't take away from the fact that Duvall is — it goes without saying — a legend highly deserving of this kind of thing.
Also smart, of course, was inviting folks like me (and Steve Pond, Anne Thompson, etc.).  Mission accomplished: I'm writing about it.  But it really was a lovely afternoon.  And today, it turns out, is Duvall's 80th birthday.  The crowd of journalists and average joes (these are generally open to public observation) all joined together in a chorus singing "Happy Birthday" to the actor after the deed was done.
James Caan served as emcee of sorts for the intimate ceremony.  Also speaking were Billy Bob Thornton and Andy Garcia (who told a great joke regarding Caan that maybe three people got: "Thank you for sleeping with Lucy Mancini."), close friends of Duvall's.  There was a sweet moment when Duvall, his feet buried in cement, looked up to his friend and protégé, Scott Cooper, and said, "You'll be up here in a few years."
After the ceremony there was a quick luncheon at the Roosevelt Hotel and a birthday cake was divvied up after one more round of "Happy Birthday."  Also on hand were filmmaker Aaron Schneider and much of the crew from "Get Low," as well as ubiquitous actor Robert Forster (seriously, he's everywhere this year, it seems).
One other hands-and-feet ceremony has happened this season, last month for "Burlesque" star Cher.  Hans Zimmer and Alan Menken, meanwhile, have received stars on the Hollywood Walk of Fame in recent weeks.  But like I said, this was a lovely afternoon for a lovely guy.  Congrats to him.
You can find career retrospectives on Duvall's birthday from Steve Weinberg at Cinematical and David Hudson at Mubi.
[Photo: Wire Image]